Water shortage bites Accra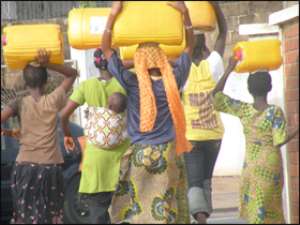 Accra residents in search of water yesterday Accra appears to have been painted yellow yesterday following a stressful water shortage that hit the nation's capital for the past three days.
A spectacle of yellow container-carrying residents searching for water painted a picture of a city on the move yesterday after most people had exhausted the life-giving fluid. "It is a yellow revolution," a desperate resident yelled.  
No prior announcement came from the water authorities for the sudden dry taps.
School children, housewives and other residents were seen in droves searching for water.  The situation was so serious that some residents were scooping water from gutters.
Even in their serious mood, the humour in some of the residents was let out when they decided to change the name of the containers from 'Kufuor gallons' to 'Atta gallons', referring to Mills.
Under the tenure of former President John Agyekum Kufuor, residents decided to name the containers 'Kufuor gallon' as a political punk.
Yesterday's situation was particularly biting because of the exceptional heat recorded in the city.
Almost all residents had a similar stressful story to tell about the scarcity of water which had almost paralysed sections of the city.
Sachet water sellers made brisk business as helpless residents resorted to buying the container of the commodity holding 30 sachets for emptying into buckets for bathing.
These were being sold for as much as 90 pesewas but some worried residents began wondering what would happen when the stock runs out.
Worst hit are WC users who are unable to use the facility because of the situation. In places with these facilities, the emanating stench is unbearable due to lack of water to flush.
Stanley Martey, Public Affairs Manager of Aqua Viten in an interview with DAILY GUIDE on the issue, pointed out that the anomaly is attributable to the laying of new pipelines to widen the network in the Accra West area.
In joining the new 20 inch diameter pipelines with the existing lines, he said the Weija plant had to be shut down.
He added that as at noon yesterday, the situation had improved in the Accra West area, adding that by 6pm of the same day, there would be improvement in the North Eastern segment of the city.
Another reason for the anomaly, he said, is because the company is rationing water "which is why some people do not get water during day time or in the evening."
By A.R. Gomda