K.T. Hammond: Petroleum increases are fraudulent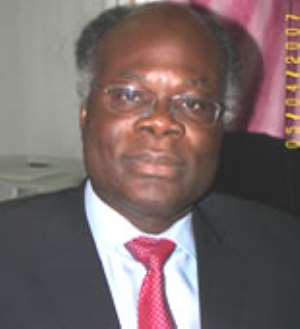 Mr. K.T. Hammond, former Deputy Energy Minister has described the 10 per cent increase in the price of petrol and other petroleum price increases as "fraud of certain monstrosity practiced on Ghanaians."
According to him the upward adjustment cannot be justified.
The new prices announced by the National Petroleum Authority (NPA) Tuesday are to take effect on Wednesday.
The increases according to the NPA, are informed by the increases of crude oil prices on the international market.
Deputy Energy Minister, Dr. Kwabena Donkor in an earlier interview with Joy News debunked claims that government has been insincere with the people of Ghana, following its electoral promises to reduce fuel prices drastically.
He argued government had incurred a loss of $300 million as a result of under recovery, and would be suicidal if it halted the upward adjustment by the NPA.
The decision to increase prices, Dr. Donkor noted, is painful, stressing if there is a fundamental necessity for review it will be done.
But Mr. K.T. Hammond is not impressed.
He told Joy News in a separate interview, government's explanation is "bogus and unjustifiable."
K.T. Hammond, who is also MP for Adansi Asokwa argued the increases are deceitful.
"In a kweku Ananse kind of situation, they (government) have given Ghanaians 5 per-cent and taken 10 per-cent.
He dismissed claims of price increases on the world market, adding government has no right to increase petroleum prices when the crude oil prices on the world market is $50.00 per barrel.
He demanded an unqualified apology from government.
But according to Elvis Afriyie Ankrah, Deputy Minister of Local Government the government has committed no wrong.
He insisted the NDC in opposition agitated for the taxes on petroleum prices to be reviewed, a promise he said had been fulfilled.
"When the NDC came to power we reduced the tax component by 5-10 per-cent, which still stands," he noted.
He argued prices would have been higher if the taxes were not reduced.
On whether the government had fulfilled its promise of a drastic reduction in petroleum prices, Mr. Ankrah said; "If the NPP did not reduce petroleum prices before the run-off by 17 percent, government we would have reduced prices by 20 percent as we promised."
Story by Nathan Gadugah