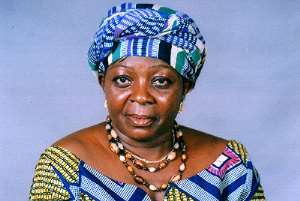 Mrs Juliana Azumah - Mensah, Minister for Tourism Mrs Juliana Azumah-Mensah, Minister for Tourism, yesterday announced the discovery of a special medicinal honey at Kakum National Park and said this will add another activity for tourists who visit the park.
The honey which is extracted from a kind of bees which does not sting, is said to be used to cure several ailments, she said.
The Minister said the University of Cape Coast has an on-going project to make the production of the special honey commercial and accessible to everybody, especially tourists who visit the site.
Hon Azumah Mensah said this when the US Ambassador to Ghana, Mr Donald G Teitelbaum, paid a courtesy call on her in her office yesterday.
The purpose of the call was to congratulate the Minister on her appointment as the Minister of Tourism and to see how best the good relationship that already exists between the two countries can be strengthened.
She said the US Embassy has been very supportive of ecotourism in Ghana and mentioned the Kakum Park as one of the tourist sites that has benefited from their support and asked for more support for the tourism industry.
The Minister, Mrs Azumah Mensah, thanked Mr Teitelbaum for his visit and appealed to him to help in training personnel in the marketing aspect of tourism so Ghana can be well marketed in and outside Ghana especially in the US.
Advertisement
She said, Ghana is fervishly preparing towards the UN World Tourism week which will be coming on from the 21st to 27th September, this year.
The US Ambassador, Mr Donald G Teitelbaum, said the US and Africa share a common history and legacy because of the Transatlantic Slave Trade and this makes it necessary for the US to give Ghana all the needed support when the need arises.
The Chief Director of the Ministry, Mrs Bridget Katsriku, said the Ministry is working on a plan for Diplomats to visit tourist sites in the country.
This, she said, is necessary because of the complaints the Ministry has often received from Diplomats of their inability to visits the country's tourist sites any time they are in the country.