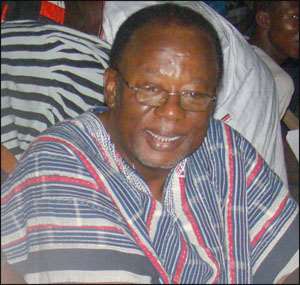 Prof. John Kaburise THE LAST time Professor John Kaburise, an NPP card-bearing member and former Vice Chancellor of the University for Development Studies, was seen in public participating in political activities was about four months ago, during the 2008 political parties campaign period.
Issues surrounding him had almost been forgotten by the public and most members of the media.
But just last weekend, he was spotted at an NDC victory get-together held at Navrog-Pungu in the Kassena-Nankana District, in the company of the Upper East Regional Minister, Mark Owen Woyongo.
If not for politics, seeing the Upper East Regional Minster and Professor John Kaburise together shouldn't be a surprise, because they have been good friends and school mates at the Notre Dame Junior Seminary and Senior High School in Navrongo.
People's surprise at seeing them together at the NDC programme was because Professor Kaburiese had never been with the NDC, neither had he declared public support for the party.
Now, the question on million minds is, does Professor Kaburiese now want to cross carpets to the NDC, or he is only getting closer to his old friend to give him development advice?
Eyes are watching while ears are also waiting for time to tell what happens after last weekend's event.
Taking his turn to address the NDC faithful at the get-together, Professor Kaburise advised the Upper East Regional Minister to be very careful with rumour mongers, saying, "they will be leading to disgrace and failure in your office. Remember that another group will also come to talk about others; be careful with your reactions and comments towards whatever they tell you. They only do so to seek favour and create enemies for you".
From Ebo Bruce-Quansah, Navrog-Pungu