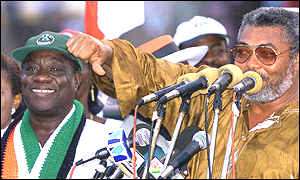 President Mills has been in office for barely three months. I mean just three months and suddenly he is being blamed for everything including rising inflation, fuel shortage, rising food prices and even high incidence of accidents on our roads. The NPP folks who got the biggest shock of their lives following their electoral defeat in 2008 have suddenly found their voices and have been jumping on President Mills at every turn of event.
I do not recall Kufour being in that kind of situation in 2000. Ghanaians including the NDC rallied behind Kufour in 2000 and gave him enough time to settle down. Back in those days when ex-president Kufour started removing subsidies on petrol, water and electricity, Ghanaians did not complain but went with him even though they felt the pains of paying more for their utility bills.
I am therefore very surprised and shocked t hat the NPP folks would be demanding too much from President Mills just three months into his presidency when even some of the ministers he has nominated have not yet been vetted let alone sworn into office to hit the ground running. Suddenly you have screaming headlines like "Is the President In Charge, "Jack Where Are You", "Is President Mills' already losing it", A nation in economic crisis dealing with a president's insecurity" and "Drowning in filth" all hitting the news wave lately Truly this is a concerted effort by the NPP to sow the seed of doubt in the minds of Ghanaians about the capability of President Mills and the NDC in general having 2012 in mind.
When Kufour assumed office in 2000, the NPP folks adopted this infamous phrase "Adieno Asei Koraa" literally meaning the economy was in shambles to buy time for the ex-president to settle in. I do not remember the NDC people pushing Kufour around to conjure magic and perform beyond the wildest dreams of Ghanaians in just three months into his presidency. But the NPP, as vociferous as they can be are clogging the air waves demanding that President Mills turns around the very economic havoc they created in just three months. Isn't this shocking and hypocritical?
Part of this grand scheme of plan by the NPP folks is to deceive Ghanaians into believing that they handed over an excellent economy to the NDC who have blown everything up in flames within three months. What the NPP folks would not like Ghanaians to kn ow is that two years before Kufour handed over the reigns of government; the NPP did not adhere to any budgetary principles but continued to spend and spend money like drunken sailors with some ministries going beyond their budgetary allocations by more than 300 per cent. What the NPP folks do not want Ghanaians to know is that they looted the coffers and the current inflation confronting the country in fact started under the watch.
There is nowhere in this world where a president can turn everything around in just three months after assuming office. I have not read of any. If the NPP knows of any, they should let Ghanaians know. Therefore, it is very disheartening for them to put unnecessary pressures on President Mills to conjure magic from the NPP's crystal ball and turn things around knowing very well that President Mills assumed office at a time that there is global economic meltdown that has had ripple effect on all countries. I wish Ghanaians including the NPP folks spend sometime reading about current global economic issues. If they do, they would find out that President Obama is facing the same economic strains like President Mills.
President Mills is determined to turn things around and has therefore been working tirelessly with his team holed up in the Osu C astle, the seat of government. This man is determined to put the economy in a better perspective by putting in place solid but bold economic measures that would cut down on inflation, cut down of government expenditure, grow the economy and see the benefits reflect in the pockets of the ordinary man on the street. Never in the history of Ghana have we seen a president cut down on his own office budget to set a precedent for the whole country. President Mills is also looking to improve the country's infrastructure like roads, schools and mostly hospitals some of which were run aground by the past administration.
With all these issues to focus on, President Mills does not appreciate the continued ranting from ex-president Rawlings. As an elder statesman, ex-president and founder of the NDC, Rawlings wields a lot of influence in the NDC. Added to this was his solid campaigns for President Mills during the 2008 elections. I know even though I do not personally know President Mills that he appreciates all what Rawlings did for him during the electioneering campaigns. But when you help somebody to win a high office of such magnitude, the least you would do is to turn and kick the person around just because the person does not buy any idea you float to him.
The NPP managed to sow this wicked lie to Ghanaians that Rawlings was going to dominate President Mills way back before the 2008 elections was settled. I do hope Rawlings read or heard about all that noise made by the NPP. So I am wondering why Rawlings would not prove to Ghanaians that President Mills is his own man, he is in charge of the helm of affairs and that he Rawlings is not out to dominate or rock President Mills' boat by just allowing the president to do his own things.
Former President Rawlings was reported by Citi FM as saying he is not happy with the way President Mills is running the country because he is not being assertive enough, and thereby allowing the opposition to undermine his authority. Rawlings was also reported to have accused President Mills of failing to deliver on his promises. Failing to deliver in three months? Could Rawlings have done better in three months? I doubt. Rawlings also criticized President Mills for surrounding himself with some officials who I believe are not allowing Rawlings to have his way by telling Mills what and what not to do.
Everybody goes with his team of people that he trusts and can work with. Everybody has his own leadership style and way of going about issues. Some move very slowing before making major decisions. Others like Rawlings are noted for making major decisions at the spur of the moment. In addition everybody is unique and different; therefore, it does not help Rawlings to jump at the least opportunity to criticize President Mills for moving too slow. What we need to remember here is that we are in a multi-party democracy with the rule of law in place. Also we need to remember that when you assume power you do not need to immediately dismiss all people in sensitive positions and put your own men and women there. This is only done during military interventions.
President Mill s won the elections. Even though not all people in sensitive government positions are NDC men and women, it would be suicidal for the new president to go round and give everybody the sack. You do that at your own peril as dismissed officials would be tempted to destroy key sensitive information not to the detriment of the in-coming administration but the country as a whole. Sometimes if you give some task to your political opponents to perform, it helps the country as a whole.
I am happy that Vice-President John Mahama made a classy comment on the issues Rawlings raised by stating that the NDC party will only deal with views expressed at a meeting. What this means is that Rawlings should not have come into the open to criticize President Mills if has any genuine concerns. It does not help to have one of your own to wash your dirty linen in public. But there is another flip of the coin that political observers and Ghanaians may have missed in all these ranting by Rawlings.
If President Mills were a "yes man" and doing everything as Rawlings' bids, would the ex-president be complaining? Hell no. If President Mills is just a president in name with Rawlings running the show, would Rawlings occasionally come out to accuse Mills? I don't think so. If President Mills is soft and he receives instructions from Rawlings, would Rawlings accuse him of surrou nding himself with people who would not allow Rawlings to do his own thing? A big no! The fact that Rawlings continues to accuse President Mills occasionally is an indication that he is hitting stumbling blocks down the road with President Mills doing things his own way since he is the president and the man in charge of the country. I would caution Rawlings to do everything he can to help Mills and the NDC win. Just going public with litany of accusations is not a winning strategy. At best it leaves the NDC party and the President Mills open for the NPP hawks to jump and feed on it.