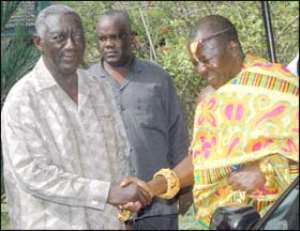 Kufuor welcoming Otumfuo Osei Tutu II yesterday The Asantehene, Otumfuo Osei Tutu II, yesterday moved the Ashanti Kingdom to the nation's capital, Accra, as he paid a rousing call on President Mills as well as the two former presidents, J.A. Kufuor and J.J. Rawlings.
Donning his beautiful traditional kente and gold ornaments, Otumfuo, whose visit to the prominent leaders has been widely described as historic, was accompanied by all Paramount Chiefs (Omanhene) in the Asante Kingdom and traditional sons who pay homage to him.
The visit was also to personally inform former President John Agyekum Kufuor of the celebration of the 10th anniversary of Otumfuo's ascension to the Golden Stool and to invite him as a special guest of honour to the grand durbar that will climax the event on April 26, 2009.
King Solomon, as the Asante King is affectionately called, arrived in the luxurious Ashanti royal three-door vehicle.
He was received by former President Kufuor and his wife, Madam Theresa; the immediate past Chairman of the Council of State, Prof. Daniel Adzei Bekoe; former Foreign Affairs Minister, Akwasi Osei-Agyei; Kwadwo Mpiani, former Chief of Staff; Rev.  Dr Samuel Asante-Antwi, a former member of the Council of State; Steven Asamoah Boateng, former Information Minister; Kwamena Bartels, former Minister of the Interior and a host of others.
According to Otumfuo's linguist, Nana Nsuase Poku Agyemang III, the visit was to as custom demanded, check on the health condition of the former First Family and invite them to Otumfuo's forthcoming 10th anniversary.
Advertisement
Nana Agyemang III also announced on behalf of the King that he had paid a courtesy call on President Mills at the Castle to officially congratulate him on his election as President of the Republic.
Mr. Kufuor could not hide his feelings than to express contentment at the visit, indicating that King Solomon, during his reign as Asantehene, brought together both old and new ways of governance into the Ashanti Kingdom.
This, he believed, would be a guiding tool for future leaders who will assume such a position in life.
Visiting President Mills, for him, was a step in the right direction, and observed that such gestures would continue to fortify brotherliness among Ghanaians, despite the different cultural practices. He as well indicated that it was good the Otumfuo remembered him and his entire household, promising that he would equally attend the occasion with his people to celebrate the historic event.
By Nathaniel Y.Yankson & Emelia Ennin Abbey