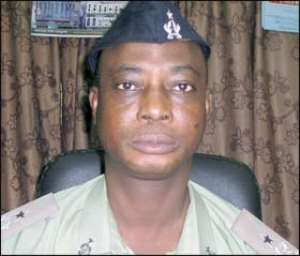 ACP Andrew Angwubutogwe Awuni ONE ERIC Okpoti, currently under police investigation on narcotics related issues, stormed the residence of the Nima Divisional Police Commander, ACP Andrew Angwubutogwe Awuni, and threatened to kill him.
Okpoti, armed with a pump action machine gun and a video recorder, is reported to have threatened to shoot the police chief because the latter had become a thorn in his flesh.
The attacker was initially arrested but had been granted bail and DAILY GUIDE gathered that the threat on the life of the police Commander was the second from the same person.
Security sources said Okpoti had strong tentacles in the top police hierarchy and that schemes were already underway to shove the issue under the carpet.
ACP Awuni confirmed that he was truly attacked by an angry and gun-wielding Eric Okpoti and that it was not the first time the man had threatened to kill him.
The Nima Police Commander however refused to comment any further on the case and explained that it would be improper for him to divulge further information since the case was still under investigation and he had an interest in it as a party.
DAILY GUIDE learnt that ACP Awuni was relaxed on his balcony when Eric Okpoti entered the house and started to take a video footage of the house and also of the police commander.
He then reportedly threatened to personally kill or ensure that Awuni gets eliminated and also alleged that the police commander had among others offences, taken his land.
The police commander reportedly warned the attacker that he did not have the sole monopoly on guns and just when the showdown was reaching its climax, the situation was saved by the presence of an unnamed police commander who coincidentally arrived in the company of an armed patrol team.
On seeing the presence of the patrol team, the attacker reportedly bolted away in his BMW vehicle.
The Greater Accra Regional Police Command is investigating the case.
By Halifax Ansah-Addo