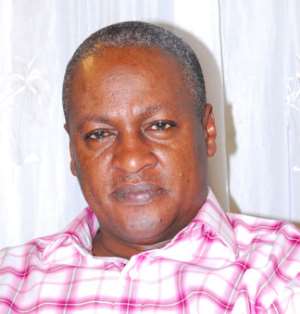 …Mahama does not own a gun
An aide to the Vice President John Jinapor has refuted media publication that Vice President John Mahama pulled a gun at former President Rawlings at the castle after the two engaged in some brawl two weeks ago
Reacting to a story published by Free Expression Newspaper alleging that the scuffle followed a request by Mr. Rawlings that he be appreciated for working for the NDC's victory during the December elections.
The story, titled "Vice President Pulls Pistol On Rawlings…The Osu Castle is the Battle Field", reported that the Vice President John Mahama not only pulled a pistol at ex President Rawlings but also "held the former military cum civilian President Rawlings on the neck in the ensuring violent confrontation."
Mr Jinapor on Citi Fm, said Vice President Mahama never had any such confrontation with the ex- President.
"The story is absolutely false. Indeed it is a fiction of the imagination of the editor. Because there was no point in which the Vice President even had a facial interaction with the ex-President not to talk of getting to the extent of exchanging physical blows and even to the extent of pulling a pistol," he said.
He described the Vice President as a very humble person noting therefore that there was no way he would involve himself in a verbal confrontation let alone go to the extent of pulling a pistol on the ex President. "Indeed he does not even possess a pistol", he said.
According to Mr. Jinapor, the Vice-President on the said date was in the house the whole day and never during that period did he have an interaction with the ex-President.
Advertisement
"If you may recall, on the 5th of March, the vice President was dispatched by the President, to mediate in the Bawku conflict. So on the 5th, 6th and 7th, the Vice President was in the Northern part of this country. He even took part in the 6th March celebrations in Bolga," he said.
According to Mr. Jinapor, the Vice President returned to Accra on the night of 7th March and headed straight for a program at the National Theatre.
"The following day he was so tired he had to rest a bit in the house. At no point in time did he even meet the ex-President facially," he stated.
He cautioned the media and advised that such publications really tarnish the image of the profession, "the media house might think that he is running the vice president down but i can tell you its on the internet, people outside this country sees it and might ask questions if the Vice President of Ghana can pull a gun, then the country might not be fit to do business" he said