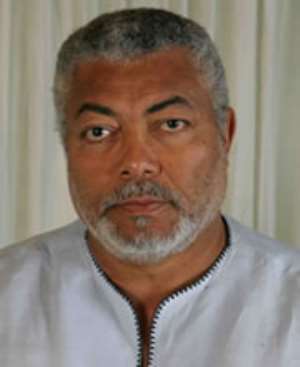 Former President Jerry John Rawlings, saying he was
concerned by the "slow pace of things" in the ruling National Democratic Congress
(NDC), said on Monday that the party needed to be more assertive and "show the
people that they were elected into power".
He said the NDC government had allowed people "we don't want to call enemies
but are really enemies" to have a field day.
"The issue of morality was central in our campaign leading to the consolidation of
power. We should not betray the confidence of the people," he told reporters after
coming out of the National Executive Committee (NEC) meeting in Accra.
Sources said the closed-door meeting was meant to review the state of the party
and the direction it should go.
Formers President Rawlings, who is the founder of the NDC, advised members in
national leadership positions who were "behaving as independents" to consult the
party where decisions were to be made.
"They should know that they won the election on the platform of a political party
and they should not take decisions without the input of the party."
Mr Rawlings described some appointees as "mediocre" adding that, "the
presidency has surrounded itself with people who are taking undue advantage to
misbehave and are doing things in the wrong direction, and everyone in the party is
complaining".
Moments later, Vice President John Dramani Mahama, who was leaving the
meeting to attend to other state issues, said although people's expectations of
government were very high, things ought to be done in consonance with the dictates
of the constitution.
He said on appointments, the party had to satisfy the constitutional requirements
that there should be regional, ethnic and gender balance and the constitutional demand
that most of the ministers should come from parliament.
The Vice President said the party's Nungua meeting was to discuss some of the
issues raised by the former President and the forum should be the best procedure to
address any grievances from members of the party who thought things should move
in a certain direction.
Mr Seth Ohene, Communications Director of the party, said diverse opinions and
issues were raised at the meeting, and the party was confident of resolving them at the
end of the meeting.
GNA