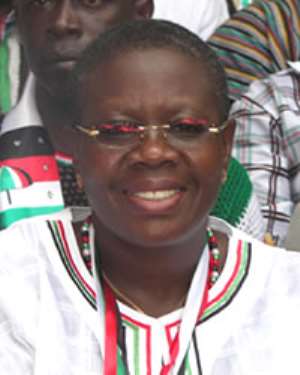 Ms Akua Sena Dansua, Minister of Women and Children's Affairs, on Monday called on heads of departments under the ministry to prioritize their activities to ensure efficiency in service delivery.
She said the ministry would soon undergo re-engineering aimed at bringing all sectors - Department of Children, Department of Women and Domestic Violence and Victims Support Unit (DOVVSU) - among other collaborators to address some teething difficulties that were hampering quality and efficient work.
Ms Dansua said this when she paid a working visit to the departments to assess the working situation as well as find common grounds of making things easier for workers.
She noted: "My success or failure depends on you. Therefore let's work together in unity to move the ministry forward."
Ms Dansua noted that capacity building to develop local skills would be enhanced and would also intensify the relationship between district assemblies.
She said the Scheme Level to ratify salary levels among workers was also on course to motivate staff.
"The ministry has initiated a lot of programmes including education of MMDCEs and parliamentarians to have better understanding of women and children's issues."
Ms Dansua noted that a budget had been approved for the construction of new MOWAC offices while the Efua Sutherland Children's Park had been given to a private investor to give it a facelift.
She urged the staff to be serious with their work, saying' "I urge you to meet deadlines and report back on seminars and workshops you attend."