Blame Rawlings for Mills' 'boom' comments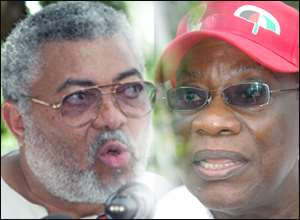 An Eastern Region based pressure group calling itself the Committee for Democratic Movement (CDM), has pointed accusing fingers at Ex-President Jerry John Rawlings for provoking President John Atta-Mills to declare in anger that the country has only one president and that the executive powers of the state are being held in trust by him for the good people of the country.
A publication by The Ghanaian Observer said the Committee for Democratic Movement says it is still struggling to find any credible basis for such statement from the first gentleman of the land but the only cause that comes to mind is Ex-President Rawlings.
Speaking at a press conference in Koforidua, the Spokesperson of the committee, Mr. Budu Yaw Asamoa, said if there is anybody in the country that has challenged the presidency, it is Ex-President Rawlings.
The committee buttressed their argument with the fact that Ex-President Rawlings questioned the President's decision to keep DCEs/MCEs of the previous government at post for a while, also citing the taking of pictures by the Ex-President at some security zones without permission from authorities concerned and his assertion that the President was being slow in taking action.
The CDM believes that President Mills should rather ask Ex-President Rawlings to stop such shameful acts of challenging his Executive powers and the political innuendos.
They further stated that anybody who behaves as such would have committed sedition under the laws of the land and that person would have undermined the authority of the presidency and to a large extent breached the Constitution of the Republic of Ghana, which does not augur well for the promotion of democracy in the country.
The committee stated that there is no doubt that the President would be a one term President, in view of the uncertainty of not being in charge of the executive powers of the land and the frustrations he is going through as a result of his inability to fulfill campaign promises.
The pressure group, whose aim is to champion democracy in Ghana, continued that although it is almost 90 days since the NDC Government took office, the President is still far from fulfilling his grandiose campaign promises.
They reminded the President of lawlessness, humiliation of political opponents and the insecurity that has engulfed the country in recent times.
Mr. Budu Yaw Asamoa expressed worry over the recent increase in prices of goods and services that has raised the living standard of the average Ghanaian, making life unbearable for all.
He called on the government to employ every necessary action to quickly arrest the free fall of the cedi against the dollar and appealed to all economists and other technocrats in the country to rescue the government and save the country's economy from the danger staring at it.