Why Nigerians Are Investing in Ghana By Vice-President Mahama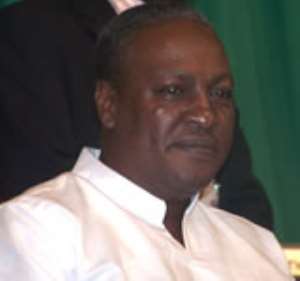 Story By: Emele Onu
THis Day Newspaper

Ghanaian Vice-President John Dramani Mahama has attributed the increasing exodus of Nigerian businessmen and other investors into the country to what he called a safe, secure, politically stable democratic environment in place in Ghana.
He said it was reassuring that in this period of global economic meltdown, Ghana continued to see an increase in interest in foreign investors willing to invest in the country.
Mahama spoke at the weekend in Accra, Ghana at the launch of a Nigerian company, eTransact, which is engaged in electronic payment system.
<
"All over the world, investors are sensitive to the business and political environment and would only put their capital in environment that they consider safe, secure and conducive. I believe that the current spate of interest of the investor community is the result of what we have been able to achieve collectively as a nation since the adoption of the 1992 Constitution- a safe, secure, politically stable democratic nation in which the rule of law is faithfully upheld," he said.
By investing in Ghana, the country's vice-president said eTransact was introducing into the country a facility that in today's IT driven world had become very imperative for economic growth.
"The use of any electronic transactions platform would reduce the need for cash and would enhance the creation of credit by the financial sector. It would also reduce the huge outlay we spend on currency printing at the moment," Mahama said.
The launch held at the State House, Accra, Ghana was attended among others by the Ghanaian Minister of Commerce Haruna Idrissu; Governor of the Bank of Ghana, Dr. Paul Acquah; Nigeria's High Commissioner to the country, Senator Musiliu Obanikoro; bank executives and captains of industry in Ghana and their counterparts in Nigeria.
The Global CEO of eTransact Valentine Obi said eTransact Ghana was set up to provide cutting edge innovative financial switching and electronic payment solutions for the Ghanaian financial sector.
He described the company as a pan-African organisation with operations in four other African countries and the United Kingdom.
Obi said most African countries were deeply cash-based economies with over 60 per cent of money outside the banking system, disclosing that eTransact was out to take African payment system to the next level.
According to him, the mission of eTransact is to provide secure, convenient and cost effective means to make and receive payments.
Harnessing the power of internet, mobile phone, ATM and POS terminals, Obi said eTransact is positioned to be the leading global financial switching solution in Africa and worldwide.
Acquah, the Governor of the Bank of Ghana, said the country's financial sector remained healthy following some transformation it had gone through.
He said the sector had been built on a set of legislation and regulations that had established a framework for the development of a modern banking and financial services industry.