NDC Chair Exposes Fifi Kwetey ...As He Guns For Real Assailant, Not Nana Addo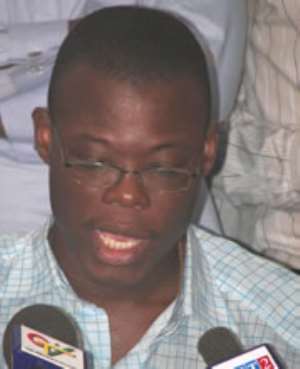 If propaganda means blatantly lying and fabricating stories to win elections, Fifi Kwetey, Propaganda Secretary of the ruling JEA Mills administration, must have achieved those ends.
If politics is, however, about credibility, then Mr Kwetey, who was railroaded last week into office as a Deputy Minister of Finance and Economic Planning by the National Democratic Congress's Majority in Parliament, faces a huge credibility problem as a high-ranking public official.
This is because, not only has his star witness, Alhaji Abu Mohammed, former NDC constituency chairman for the Abuakwa constituency, decided to seek justice in going for his real assailant; but also in doing so, he has exposed the Deputy Minister designate"s lies about NPP 2008 flagbearer Nana Akufo-Addo.
On a thousand and one political platforms in the country, including his appearance before the august Appointments Committee of Parliament, Mr Kwetey, consistently lied that the spritely Abu, who suddenly acquired crutches in the heat of assertions that he was not a cripple or if he was incapacitated, it was not as a result of beating allegedly administered by 'thugs' of the New Patriotic Party under Nana Akufo-Addo's instructions.
Today, however, conscious of his Muslim duties to speak the truth even when you have a sword pointed to your chest, Abu Mohammed, who initially claimed that he became incapacitated following beatings he suffered at the hands of thugs in 1996, Friday filed a writ of summons praying the courts to bring a driver, Richard Osei and his car owner, Paul Oduro Abrokwa, to court for causing him to be become a paralytic.
The vehicle involved in his agony is an Opel Astra GT 1505 V.
The NDC chairman is also claiming general damages for shock, pain, injury, loss of earnings and also loss of nursing care suffered by his wife Barekiso Mohammed as a result of the accident.
In a statement of claim attached to the writ of summons, Alhaji Mohammed indicated that on or about the 15th day of September 2005, the 1st defendant, Richard Osei, was driving the said vehicle from old Tafo Akim and at a spot near a sawmill, he negligently overtook a leading vehicle and in the process knocked him (Alhaji Mohammed) down.
The statement listed particulars of injuries suffered by Alhaji Abu Mohammed as contusion of head with cerebral concussion, multiple lacerations on scalp and neck, blunt abdominal injury, compound comminuted fracture of right tibia and fibula with posterior tibial artery severed and contusion of left elbow.
The statement said he was treated at the Akim Tafo and St. Joseph Hospitals respectively and incurred medical and other expenses totaling GH¢1,802.00.
On the list of seven items of expenses was clutches (four leg and one pair) costing GH¢100.
It was made clear to The Statesman the "before the accident, plaintiff Alhaji Mohammed was a branch chairman of the Ghana Private Road Transport Union and was receiving a monthly salary of GH¢100.30.
It went further to state that, 'I was 57 years old at the time of the accident and could have worked as a branch manager even at the age of 65 years.' It added: 'My present complaints include pain in the affected areas and inability to walk properly'.
The statement said he Alhaji Mohammed remained on admission and his wife Barekiso Mohammed had to suffer nursing care, adding, 'she was a trader earning GH¢10.00 per day and she remained with me at the hospital for 8 months and over one year at home'.
Alhaji Abu Mohammed's lawyer, Frank G. Donkor of Yaw Barimah and Co., Afisem chambers at Koforidua served the notice of commencement of legal action on claims number SAC/CL00129/2006 to the Head of Claims (Motors) of Star Assurance Company Limited head office in Accra. The case was adjourned for hearing on May 5, 6, and 7, 2009.
The defendants are being represented by Bernard Aliafor of Kwame Gyan and Associates, Atiwa Chambers in Accra.
Statesman intelligence spotted Alhaji Mohammed climbing the two storey court building with a normal walking stick.