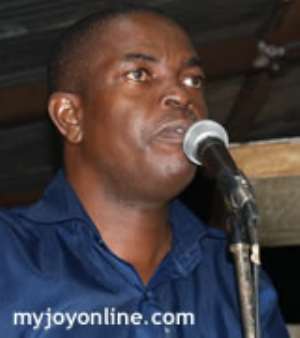 Mr. Kwesi Pratt Jnr., Managing Editor of the Insight Newspaper has accused some elements in the ruling National Democratic Congress (NDC) of repeating mistakes of the previous government just three months into Atta Mills' administration.
"I am beginning to see what happened in the past, and if they think they can get away with it like the NPP, they lie bad, because the good people of Ghana will resist it. If they don't stop that I will be first to vote against them in 2012", he warned.
Addressing hundreds of NDC supporters of the Takoradi Polytechnic chapter of the Tertiary Education Network of the NDC (TEIN) in Takoradi on Thursday, Mr. Pratt said officials in the sitting government must desist from past mistakes and emulate what he termed as the "modest and dignified lifestyle of President John Evans Atta Mills".
Mr. Pratt, whiles admonishing the modest lifestyle of the president warned against the president getting to slow saying he must step up his actions to achieve the change the Ghanaians called for in December 2008 elections.
"He may be all that he claims he is, but sometimes in government you need to bite a little. Too much nonsense is going on in our country, if Kufuor will not take the Chrysler saloon cars, then he can leave it."
According to the ace journalist despite the change of government there were still power struggles between the ruling party and the opposition party, due to what he termed as 'square pegs still in round holes'. He cautioned that "Change will not come about with the old machinery and old people still at post," adding "we need to see urgency in certain areas because the people of Ghana want change and want it now."
He alleged that the opposition NPP was still controlling some regional security councils in the country, which to him was unacceptable and dangerous to the prospects of the ruling National Democratic Congress.
Mr. Pratt also charged President Mills and the government to be responsible enough to reduce the complex lexicon used to describe the economy to the barest understanding of the ordinary Ghanaian, saying "Hungry people do not care about inflation, they do not care about interest rates, they do not care about GDP, micro and macro economic indicators, what they care for is food," he pointed out.