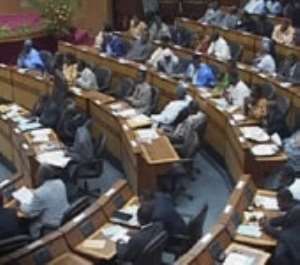 Parliament on Friday night passed the Appropriation Bill, approving the sum of GH¢9.79 billion for the financing of government operations in the 2009 financial year.
The motion of the approval was moved by the Finance Minister, Dr Kwabena Duffuor, who sought Parliament's authorisation to enable the government withdraw monies from the Consolidated Fund and other funds for the running of the State during the year.
Mr James Klutse Avedzi, Chairman of the Finance Committee, presenting a report, said GH¢3.01 billion of the total sum constituted statutory payments whilst discretionary payments would also amount to GH¢6.78 billion.
He said the Committee observed that this year approximately GH¢5,750,000 from the HIPC Funds would be granted to Members of Parliament and that each member is expected to receive about GH¢25,000 to undertake various developmental projects in their constituencies.
He said the Ministries, Departments and Agencies shall be permitted to retain and use GH¢386,881,310.00 of their Internally Generated Funds during the year.
GNA