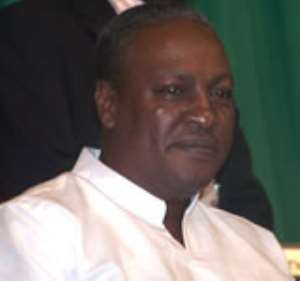 Vice President John Mahama on Saturday urged owners of private tertiary institutions to maintain high standards, cautioning that government could withdraw their accreditation if found to be operating below standards.
"Government shall not hesitate to use appropriate measures to withdraw the accreditation of any private tertiary institutions which would be found to be operating below the required standards," he said, reiterating that the State would not compromise the quality and standard of programmes that these institutions intend to run.
Vice President Mahama was speaking at the second graduation ceremony of the Regent University College of Science and Technology in Accra.
He elaborated on government's educational programmes, which he said, were aimed at ensuring quality standards from the basic schools through to the tertiary level and called for the active involvement of the private sector.
He said the ethos of government's educational policy was to open access to all Ghanaian children to realize their fullest potential regardless of their economic status.
The Vice President's statements reflected a public perception that many entrepreneurs were getting involved in the provision of tertiary education with profit making motive and were most likely to compromise on standards.
Another issue of public concern that Vice President Mahama focused mentioned was the need for Ghana's tertiary institutions to balance theory with practice.
"We must eradicate the paradox where graduates in automobile engineering, for instance, have to call for a fitter when they suffer a breakdown on the road".
He also called on the institutions to "inject in their graduates an entrepreneurial spirit, whereby they can also set up enterprises and businesses in order to create employment for others, rather than just seeing themselves as fit to be employees".
The President of the University, Professor Kingsley Larbi, urged the government to bring about real transformation in Ghana's educational sector to give opportunity to children in underserved communities.
He said failure to deliver on this could jeopardise the nation's future as many of children could be rendered non-functional because of illiteracy.
Professor Larbi whose long speech dilated on challenges facing Ghana called for a change in attitude on the part of the wealthy to support disadvantaged communities.
He also called for more state support for private tertiary institutions and the review of the taxes imposed on them so as not to starve them of cash needed for regeneration.
The Chairman of the University Council, Professor Nicholas Nsowah Nuamah, said the primary goal of the Regent University was equipping students with skills that would make them rise to modern scientific challenges for the development of the country.
The Vice Chancellor of the Kwame Nkrumah University of Science and Technology, Professor Kwafo Adarkwa, and Dr Kwabena Darko, a renowned Ghanaian industrialist were among the dignitaries.
The 200 graduating students took bachelor degrees in accountancy, banking, finance, computer science and informatics.
GNA