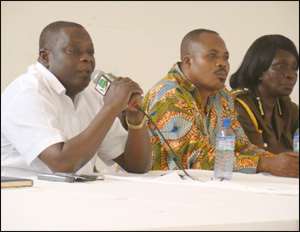 Mr. Woyongo (l) and other members In recent times, the Upper East Region has been experiencing fuel shortages, with residents wondering if the problem is national or due to the action of a few selfish individuals.
As usual, fuel dealers explained that they had run out of stock since their consignments were yet to arrive from Tema and Buipe in the Northern region.
The discomfort created by this situation prompted the Regional Security Council to put in place measures to ensure that people do not take advantage of the situation to trade the limited stock at high prices on the black market.
The Upper East Regional Minister, Mark Woyongo however believed that the situation was deliberately created by some individuals to make the NDC government unpopular.
"I am thinking this way because these people may not be happy with the fact that the NDC is fulfilling its promise to reduce fuel prices. If my thinking is true, then those people must bow their heads in shame, because availability and affordability of fuel is for the good of Ghanaians in general."
He cautioned that REGSEC with support from the Police would put security personnel at each of the filling stations in the region, especially the Bolgatanga Municipality to ensure that no one smuggles fuel to sell at a higher price.
"REGSEC will reward anyone who reports smuggling of petrol with 50 percent of the price of the smuggled petro when the offender is arrested and the petrol sold."
Meanwhile, some fuel dealers in the region have blamed the Oil Marketing Companies for the situation, saying they always put the local dealers in a situation that prompts them to order fuel only when it is critical.
"You see, these Oil Marketing Companies are not doing us good, because when there is an increase in the prices of fuel products, most of the stations here in Bolgatanga would struggle but never get fuel to buy; but would only get their consignments when the price of fuel is reduced. When that happens, we lose so much money; that is why some filling stations do not order until they have almost run out of stock."
Meanwhile, as at press time, there were still long queues of cars and motorbikes waiting to buy fuel.
From Ebo Bruce-Quansah