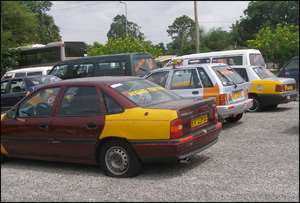 Some of the seized cars at the police Three days after meeting with unionised drivers and non-unionised drivers in the New Juaben Municipality of the Eastern Region, the Police in Koforidua last Friday mounted a massive operation to arrest recalcitrant drivers who have total disregard for road safety regulations.
The meeting between the drivers and the Motor Traffic and Transport Unit (MTTU) of the Police was in collaboration with the regional office of Driver, Vehicle and Licensing Authority (DVLA) and the National Road Safety Commission.
The meeting was intended to let the drivers know about their responsibilities on the road and the dos and don'ts of their profession as well as safety measures on the road to ensure that they don't necessarily involve themselves in accidents to decimate lives and properties since according to the three organisations, 90 percent of road crashes are due to human error.
In a follow-up operation, the police arrested 33 drivers last Friday for breaching traffic regulations but were later released after they were extensively educated again on road traffic regulations.
Another operation was carried out on the following day resulting in the arrest of 18 other drivers who were immediately put before court and fined various sums of money ranging from GH¢300 to GH¢500 for breaching traffic regulations.
The vehicles involved have been seized and parked at the premises of the regional police headquarters pending an order by the court for their release.
Earlier on at the stakeholders' meeting, the Regional Commander of Police, DCOP George Anko-Bil told the drivers that this time round, the police were going to enforce the laws on road safety to the letter in order to bring sanity on the road.
"We have called you here to let you know about your responsibilities as drivers and also to let you know that you are to operate within the laws of the country," he said.
The Regional MTTU boss, Superintendent James Sarfo Peprah asked the drivers to constantly refresh their knowledge in driving since technology is fast changing.
The regional director of DVLA, Mr Vincent Fiati proposed a special driving school for commercials where after obtaining their driving licences they would be required to attend that school and also obtain special certificates to qualify them to drive commercial vehicles.
Mr Fiati took the drivers through some theoretical driving tests and it came out that most of them did not know about how to use 'hazard lights' to indicate a danger on the road and also the reason behind 'flashing' the headlights during daytime.
From Thomas Fosu Jnr, Koforidua