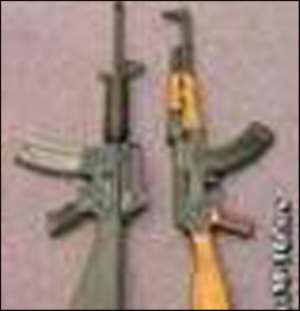 AK47 Rafle Thirteen suspected armed robbers who assaulted policemen with offensive weapons when the security agents were detailed to effect the arrest of a suspected notorious armed robber at the Kokomba Market in Accra, have been nabbed and arraigned for their reprehensible behavior.
The accused persons who wielded machetes, cutlasses, and sticks among others, resisted the arrest of their colleague and gave three policemen who are the complainants in case, a sound thrashing and in the process stole money worth GH¢700 and a mobile phone. The police officers sustained injuries on their heads and other parts of their bodies.
The incident occurred when Yaw Amankwah, a wanted armed robber in connection with a series of robberies in the Accra Metropolis, was said to be hiding at Kokomba Market and the three were sent to effect his arrest.
The alleged accomplices of the suspect blocked the path of the complainants and assaulted them. It took the intervention of senior police officers to order for reinforcement before Amankwah could be captured and taken to the Police Headquarters while the others were also nabbed.
Those arraigned were Ben Fosu, Alhassan Fuseini, Mohammed Mahee, Lukeman Ali, Shobiton Femi, Baba Abdullai, Issaka Kabiru, Ibrahim Osman, Issah Iddi, Mumuni Fatao, Nashiru Iddrisu, Mohammed Mashid and Haruna Fataw.
They pleaded not guilty to conspiracy to commit crime, causing harm, stealing, use of offensive weapons, assault on public officer and resisting arrest, at an Accra Circuit Court presided over by Judge D.E.K. Daketsey.
All of them have been placed in police custody while the case has been adjourned to April 9, 2009.
Prosecuting, Chief Inspector J.K. Anim told the court that Lance Cpls Karim Braimah, Gilbert Agaa and Awumedek Solomon are police personnel at the Accra Regional Criminal Investigation Department Headquarters in Accra.
He said on 24 March 2009 at about 10.00pm, the Police had information that Yaw Amankwah, a notorious armed robbery suspect, was in a hideout at Kokomba Market so acting upon that information, the complainants were detailed to arrest him.
According to him, the policemen captured Amankwah but he fiercely resisted arrest which created a scene; so the other accused persons blocked the path of the policemen, preventing them from taking Amankwah away and brought out sticks, machetes, clubs and attacked the policemen.
The police officers, when they realized that they were outnumbered, called their superiors who sent an additional team to the rescue. The suspects were apprehended and taken to the Police Headquarters.
He said they were charged with the offence after police investigations.
By Fidelia Achama