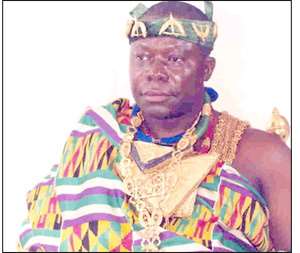 Osei Tutu ii A LARGE number of sheep were slaughtered at the Manhyia Palace in Kumasi, the official seat of the Asantehene Otumfuo Osei Tutu II, on Thursday afternoon.
Dubbed 'Nsumangoro', the special rites were performed to pacify the over a hundred gods of the Ashanti Kingdom.
The flock of sheep were slain by Otumfuo Osei Tutu II himself in the presence of the entire members of the 'Nsuman' Division of the Ashanti Kingdom.
The blood of the exterminated sheep was sprinkled on the ground to appease the gods for their protection of the Asantehene and members of the kingdom during the past decade.
The special programme, which was not open to the public, formed part of activities marking the 10th anniversary celebration of Otumfuo's ascension to the Golden Stool.
This was made public by the Head of the 'Nsuman' Division of the Ashanti Kingdom, Baffuor Dumfeh Gyeabuor, in an interview with Kessben FM.
Significantly, the 'Nsuman' Division chiefly protects the occupant of the Golden Stool spiritually.
Baffuor Gyeabuor disclosed pathetically that he had officially informed Otumfuo about the sudden death of a member of his group, Opanin Kwabena Akosa, who was shot and killed by unknown assailants on Wednesday evening at Atafoa.
The Asantehene, he noted, was informed about the death of Opanin Akosa before the 'Nsumangoro' got underway on Thursday.
From I.F. Joe Awuah Jnr., Kumasi