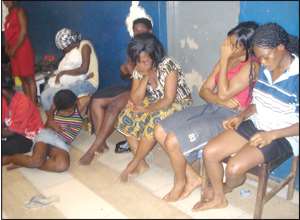 The arrested prostitutes Two nursing mothers who were arrested on charges of selling their bodies, claimed that was the only way they could feed their children.
The two were busted alongside 15 other commercial sex workers aged between 17 and 28 last Wednesday night at the 'Soldier Bar', a notorious sex den at the Kwame Nkrumah Circle in Accra, by the Nima Divisional Police Command.
They are both nursing three-month-old babies who are still feeding on breast milk.
When DAILY GUIDE visited the Nima Police Station Thursday afternoon, the two lactating mothers were breastfeeding their hungry babies behind the counter.
One of the mothers, who gave her name as Mansah, told DAILY GUIDE that she engaged in prostitution to cater for the baby because the man who impregnated her denied responsibility and the child therefore had no father.
She explained that she travelled from Apam in the Central region to Accra because of prostitution and that there were times she took the young baby along in search of male clients.
The other sex worker with a baby gave her name as Nana Ama and said though her child had a father, he was a commercial driver who plied the Kumasi-Accra route and that she engaged in prostitution as a means of gaining extra income anytime 'the husband' was out of town.
The District Crime Officer at the station, DSP Kingsley Amankwah explained to DAILY GUIDE that his outfit had reports that the Soldier Bar and its environs had become a den of criminal activities and that in the course of getting the place rid of criminals, the sex workers were rounded up.
He however was not emphatic on what precise action would be taken against the sex workers but said his outfit was still conducting investigations into the case.
The Soldier Bar has become famous as a notorious sex brothel where under-aged girls offer sex for sale.
By Halifax Ansah-Addo