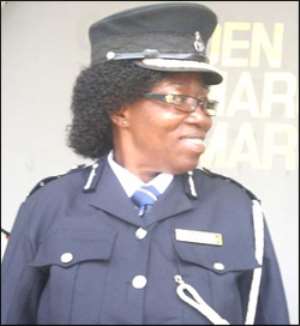 DCOP Rose Bio-Atinga About 25 people are reported to have died in 100 road accidents recorded in the Volta Region between January and March 25 this year.
This was disclosed by the Volta Regional Police Commander, Deputy Commissioner of Police Rose Atinga Bio, at a meeting with road sector agencies and commercial drivers unions on road accidents in the region at Ho.
According to DCOP Atinga Bio, all the deaths and accidents could have been avoided but for the carelessness of drivers and driving without observing the regulation that drivers keep to 50 kilometers in towns and 10 kilometers in heavily-populated areas.
She challenged passengers to speak out against careless driving during the course of their journeys.
"If you are in a vehicle and the driver is over-speeding, stop him, if he refuses, call the police or report him to the nearest police station or at the next police barrier," she said.
DCOP Atinga Bio observed that the road from Accra to Ho and Accra to Aflao and many other major roads in the region are not highways because they have human settlements and activities along them.
This, she explained, requires that drivers limit their speed to 50 kilometers on such roads to enable them take control of unforeseen situations when they occur.
According to her, the police in the region would from next week embark on an education exercise for drivers at lorry parks and enforce the ban on the sale of alcoholic beverages in and around those places.
He urged various commercial drivers unions to redeem their collective image by enforcing the observance of safety standards among their members.
She appealed to the courts to deal drastically with culprits brought before them to serve as a deterrent to other careless drivers.
The Volta Regional Co-coordinator of National Road Safety Commission (NRSC), Elvis Gbesemate said some measures would soon be taken including legislation to deal with the road accident menace in the country.
He noted that with effect from April 6 this year, all commercial vehicles would be required to keep log books as a means to check the number of hours drivers drive continuously in a day.
Mr. Gbesemate said the menace of floating drivers and drivers who do not belong to any commercial drivers union would be dealt with in the interest of road safety.
From Wise Donkor, Ho