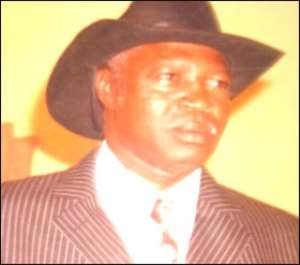 Effah Addae THE KINTAMPO South District Integrated Personal Payroll Database (IPPD) Officer of the Ghana Education Service and a District Chief Executive (DCE) hopeful, Effah Addae has been accused by teachers in the district of using his position to extort monies from them under various pretexts. 
According to the aggrieved teachers who spoke on grounds of anonymity, each time their promotions were effected, they were expected to fill IPPD so that the Controller and Accountant General's Department (CAGD) could also effect the increment in their salaries.
Mr. Addae who is the officer in charge and on government payroll is mandated by the district directorate to facilitate such processes to ensure that the promoted teachers were paid their due.
They however complained that each time they found themselves in processing such documents, the IPPD officer demanded GH¢30 before he assisted them, and those who failed to pay the amount were left to their fate.
The teachers alleged that initially, he was taking GH¢20 in spite of fierce criticisms until the last quarter of 2008 when he suddenly increased his booty. This is however unknown to officials of the GES.
Failure of promoted teachers to pay the amount quoted, the teachers told DAILY GUIDE, meant their new salaries would not be processed, thus denying them their rights to increased salaries.
Reasons for the amount collected as explained by the officer to them were meant to influence senior officials at the CAGD to fast track the processes. Several petitions to the District Director of Education at Jema to halt this practice by the IPPD officer proved futile, the teachers lamented.
When contacted on phone on the matter, Mr. Addae admitted taking money from a number of teachers, but said it was for a different purpose.
He however rebutted the claim that he demanded monies from them before assisting them to process their IPPD forms since he was duly paid by the government for the services rendered.
According to him, the teachers were trying to blackmail him, knowing very well that he has ambitions of becoming the next DCE of the district.
Mr. Addae told this paper that he was currently working on the IPPD forms of some teachers and had not taken a dime from them, challenging his accusers to provide ample evidence to their claim.
Meanwhile, the affected teachers still insist that he is corrupt, and appealed to the education authorities to investigate the matter.  
From Stephen Zoure, Jema