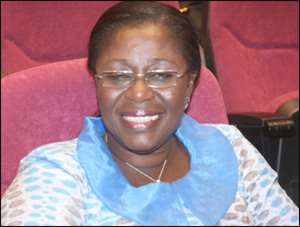 Frema Opare An Accra Fast-Track Court has dismissed a writ filed by Mr. Twum Kojo Boafo of the National Democratic Congress (NDC) challenging the declaration of the Ayawaso West Wuogon Parliamentary elections in which Hon. Frema Opare-Osei was declared the winner.
The petitioner also roped in the Electoral Commission (EC) for declaring the winner in an election in which he claimed was flawed.
The NDC parliamentary candidate also wanted the court to declare the election of the New Patriotic Party (NPP) Member of Parliamentary (MP), Hon. Osei-Opare, null and void for fresh elections to be held in the area and a declaration restraining her from holding herself as the MP for the area.  
The Judge, Justice P. Ofori-Atta who dismissed the suit in his ruling, also awarded GH¢2,000 as costs against the petitioner.
In his ruling, the Judge noted that as a precondition for the validity of the petition, a petitioner is required to apply to the court on how much should be imposed as security for costs.
He said in this case, the petitioner went and deposited ¢20,000 to the court as security for costs pursuant to Article 18 (2) of PNDC Law 284 which is the People's Representation Law.
According to him, that law had been amended and there is a slight change which required that Mr. Boafo should have asked the court how much should have been paid before proceeding to make any payment to the court, and proceeded to dismiss the writ.
Earlier, Mr. Tony Lithur, counsel for Mr. Boafo, was of the opinion that his client had deposited an amount of ¢20,000 at the High Court pursuant to Article 18 (2) of PNDC Law 284 which therefore made their petition valid.       
However, counsel for the EC, A.K. Dabi argued that validity of the petition was questionable since the amended law was not followed, and prayed the court to dismiss the application.
Counsel for the MP, Mr. Thadeus Sory, also supported the move by the EC to have the application struck out, and said once the processes were flawed, the court had no jurisdiction entertaining such a petition.
Mr. Sory also noted that the formality required for the validity of the petition was not complete so it deserved to be struck out.
Both the petitioner and MP were not in court except for their counsel.
By Fidelia Achama