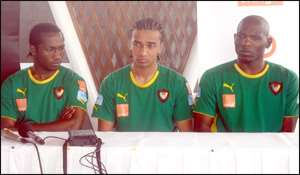 Cameroonian players The signs are ominous for Togo and fellow Group A combatants Morocco and Gabon if the attitude of the Cameroon camp is anything to go by.
The Indomitable Lions' failure to qualify for Germany 2006 is still fresh and this 2010 World Cup qualification campaign is about redemption.
Cameroon is the number 1 ranked team in Africa and with that comes the expectation that they will brush aside the disappointment of 4 years ago and qualify for South Africa 2010, a view shared by senior player Geremi Njitap.
"Cameroon is one of the biggest teams in Africa, not just in name but it must be proved on the pitch. This is a new campaign and we want to represent Africa in the World Cup," the veteran midfielder told a press conference in Accra yesterday.
"The job starts on Saturday; we hope for no mistakes unlike the last time," he added.
Every member of the squad arrived on time in Accra on Monday, proving that the team is not taking Togo lightly.  Having spent the week acclimatizing, Cameroon are confident in their ability to take the 3 points- a task that should be made easier by the neutral ground fixture.
"There is a big advantage for us (playing in Accra); usually the home team has the 12th man.  Togo is not far from here but it is 50-50, it's a good advantage and we're going to take it," said Geremi.
The pain of missing the last World Cup has been a driving force behind the new campaign.  Cameroon has not lost since falling to Egypt in the African Nations Cup final in Accra last year and Manager Otto Pfister is satisfied with the level of preparation.
"We have 23 players in the squad and team spirit is very high, we are the favourites and the team is looking well," declared Pfister.
"I have been in touch with the doctors and as of now there are no problems with the team's health.
"I hope we have a good game on Saturday.  Good for spectators too.  We are ready for the game," he added.
By Kate West