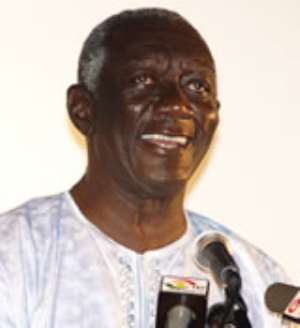 Former President John Kufuor has decided to remain in his controversial Ridge office until he receives official correspondence from President John Mills as to whether he should vacate the property or not.
Several groups, especially the Ga Dangme Youth, have expressed opposition to Mr Kufuor's use of the property as his office.
National Security Coordinator, Lt Gen Larry Gbevlo Lartey at a point said the property was on the inventory of his office.
The Ga Mantse, Nii Tackie Tawiah III has since condemned the actions of individuals and groups purporting to be speaking for the Ga people on the land issue saying that while the Ga Council shared the feelings of Ga people being alienated from their land, it would however not condone the activities of individuals and groups agitating for the release of Ga lands.
It is however unclear if the Presidency will allow Mr Kufuor to remain in the property.
The former President's Spokesperson, Frank Agyekum tells Citi News President Kufuor will accord President Mills the due respect and remain in the property until he receives a response from President Mills on the letter he forwarded to the Castle.
"We believe that we should wait for a formal notification from the President or the current government so that's what we are waiting for", he said.