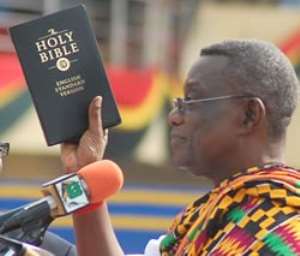 Dear Mr. President,
A few weeks ago, there was a report in the news that about 400 boys and girls who enlisted in your military were sent home pending an investigation as to how they were selected into the colors. This indeed shook some of us who took you serious when you promised to put money in our pockets when you were elected. And to worsen the situation, the action of sending these poor kids home does question your sincerity and commitment to the truth and your word.
You have been dragging your feet since you assumed office. Your choice of transition team was to say the least, a mere reminder of the PNDC and the actions they have embarked on, rather unconstitutional, has been overlooked by you. Since you can always blame your inadequacies on time and priority as a president many things which a good leader would personally interfere and correct have been ignored. I am referring, sir, to the persecution of NPP followers at the Agbogbloshie market in Accra. I am also referring to the 420 Ghanaians who have been denied their God-given rights to join the military of their own country. There is more and I am sure you are well aware and well-informed but you choose to keep quiet over them because you have been advised not to wade into such delicate issues.
Mr. President, I am a citizen of Ghana worried and alarmed at your poor judgment. You would choose to attend church services and the mosque to boost your humble – asomdweehene – characteristic while our country boils under the smooth thin veneer. And I must tell you that your poor handling of the military situation, particularly, your order to withdraw the promotion of certain officers in the middle management class, i.e., captains to majors, does not augur well for your party and the country. From what we hear, you have allowed a particular ethnic group in the country to convince you, and don't forget they happen to be in the minority and cannot, by any stretch of their or your imagination assume control of anything in the country. And also be reminded of Rwanda where the majority Hutu had to reassert itself after a minority domination for sometime. If that happens in Ghana, it would be because you were weak, pliable, spineless and purposeless.
Don't you forget too that you became president because Electoral Commssioner Kwadwo Gyan looked the other way while Ghanaians were being mauled in the Volta region for merely being in the other party. You never said anything and if your opponent had not taken good counsel, our democracy would still be either determined in the courts or we would be at each other's throat all because of your party's resort to means undemocratic. Ghanaians are yet to hear from you on your thought on such behaviors.
Radio Gold, your party's mouthpiece, continued to spew forth ethnic and tribal exhortations, even to attack Ashantis and other Akans because of who they happen to be and you did nothing. We are yet to hear from you on those issues even as you declared at your inauguration that you would be a father to all Ghanaians.
As a lawyer and a teacher of the law for that matter, you have allowed a gross abuse of the constitution with your disregard for the parliament regarding the End of Service Benefits issue. You caved in to the pressures of such pests like Kwesi Pratt. Meanwhile, your major domo, Jerry Rawlings, continues to enjoy his post-presidential emoluments. And Ghanaians do not know how much he or even you enjoy as recommended by the same Chinery Hesse report which is now under the knife at your office. What a shame, Mr. President.
Most of those who appear to question the Chinery Hesse report do that because they have been convinced that it is NPP's John Kufuor's scheme. Poor Ghanaians failing to read between the lines have been hoodwinked into thinking that no NDC leader including you are also involved. Why else would Alban Bagbin sign off on it? And I am sure you knew too, but, of course, there is always the NPP to blame.
My other issue is the economy. Mr. President, when you assumed office, a hapless World Bank official announced to the world that Kufuor's economy is nothing but a shamble and your team took that in. It vindicated your usual claims during the campaign that the nation's economy was in the doldrums. Not until the House Minority Leader debunked that claim you were ready to convince Ghanaians that Kufuor's economy was nothing to write home about. Meanwhile, we are yet to know what your fiscal and economic policies would be for the next four years.
I am also concerned that you are being used to fulfill some people's agenda. And that would be Mr. Jerry Rawlings'. Why else would you sit by and see those young ones lose their aspirations on the lame excuse of a lie? A lie that all of the 420 boys and girls are members of a particular ethnic group or represent the NPP.
Whatever you believe, Mr. President, don't forget that Ghana would still be there when you and your cohorts die. Maybe the NDC would still be there and perhaps the NPP too. Don't forget too that politics and everyone in it is supposed to provide the best ever forum for the best way our country is to be governed. And that is why we have the opposition and the government parties to provide alternative viewpoints. I don't know why I am lecturing you, a law professor, but you don't seem to get it. On the other hand your NDC has taken politics to another level. It has become a do-and-die affair. If it is not a war why should anyone die while pursuing peacefully a democratic path for Ghana?
My appeal to you, Mr. President is that you should make a difference in your party. If there is going to be peace in Ghana, it would depend on how you take charge of the situation. The people voted for you, not for Rawlings. The people hold you accountable for your promises, not Rawlings. The buck stops at your feet, not Rawlings.
Ghanaians are calling on you to step up to the plate and assert the authority vested in you as the president of the republic.