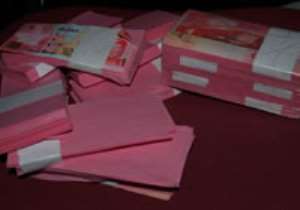 Listen to Stephen Sowah of Amal Bank
Luck eluded two men who allegedly attempted to deposit 42,500 fake euros at the Michel Branch of Amal Bank in Accra.
The two, including a managing director of a Tema based company, who were busted yesterday, are in police custody helping in investigations.
According to the branch manager of the bank, Stephen Sowah, who confirmed the incidence to Joy News, his attention was drawn by one of the tellers who detected that the euro notes bore the same serial number.
"Quarter to 5:00 pm I was in my office when my tellers called me that there is a man in the banking hall who wanted to deposit foreign currencies which have the same serial number.
"So I went into the banking hall to inquire and when we put them through our machine, we realized that the machine rejected them because they were fake and when we checked the serial numbers, all the serial numbers of the 85 pieces were the same; so we informed the police and the police picked them up."
The suspects, a white gentleman and his Ghanaian counterpart, are said to be regular customers of the bank.
"Because of the issue in the media some of the people want to take advantage of it but we have changed our system operations and processes on our machines, it is very, very difficult for counterfeit to go through it. I think it is good for us to have changed our machines, otherwise this would have been one of those issues in the bank"
The suspects claimed they where swindled by an unknown man they entered into a deal with.
Amal Bank has been in the news lately after Bank of Ghana report implicating the bank's former Managing Director, Mr. Oluwale Ajumale. He was also indicted for engaging in a number of foreign currency transactions without the necessary documentation.