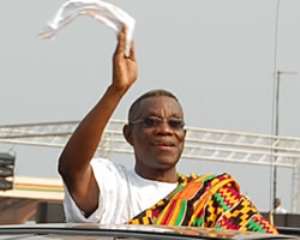 President John Evans Atta-Mills will no longer be visiting the Jubilee Oilfield rig in the Cape Three Points of the Western Region, but a large crowd is expected to meet him at Moree Junction to welcome him to the Central regional capital, Cape Coast Friday afternoon.
The president will be participating in a big durbar of the chiefs and people of the region planned for Saturday at the Victoria Park partly to honour him as the first son of the land to ascend the presidency.
The Oguaaman Union would also host a special luncheon on Sunday to honour the president after a church service at the Pentecost Church, near Adisadel College, Cape Coast.
An earlier statement from the presidency had included a tour of the oil rig by the President in his three-day visit, and was to be briefed extensively on operations there by Tullow Oil executives, including CEO, Mr Aidan Heavey, but Joy News' Castle Correspondent, Stephen Anti reports that trip is off.
The president rather met with officials of Anadarko Petroleum Company, also operating in the Cape Three Points area, at the Castle Friday morning and urged the company to assist the Ghana National Petroleum Corporation in the development in its gas programme and also to employ the best international practices in their dealings.
President Mills also asked the company, led by CEO Jim Hacke, to be transparent in its dealings, be sensitive to the environment and not to forget the local communities who will also be affected in their operations.
He further urged the company to help build the capacity of Ghanaian businesses and the parent body, the Association of Ghana Industries by sourcing materials locally where they are available, pledging government support.

Story by Isaac Yeboah