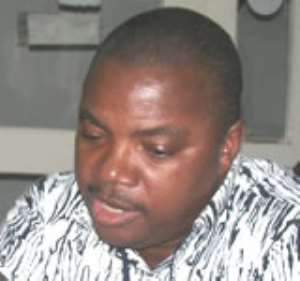 The Editor of the Daily Graphic, Mr Ransford Tetteh, says ethical and responsible journalism is essential for the long-term success of the media in galvanising people for development.
Consequently, he has charged media personnel to ensure that they carry out their work in a responsible manner.
"Responsible media are those that do their best to adhere to the highest ethical standards, professional competence and good behaviour in carrying out their duties. As the fourth estate of the realm, the media is expected by the public to play their watchdog role well and they should do this with a high sense of responsibility without infringing on the rights of individuals and society," he said.
Mr Tetteh said this when he presented a paper on "Responsible Media: Prerequisite to National Development" at a two-day workshop on post-election conflicts in Africa.
He said development was about people, so the people must be free to discuss and decide what type of development they wanted.
"Every development activity is information-based or information related. People must be exposed to new ideas and new concepts and the opportunities provided for adopting the necessary measures towards development or modernisation," he said.
Mr Tetteh, who is also the President of the Ghana Journalists Association (GJA), said the new approach to development was information distribution, sharing and participation.
The media, he said, could promote development if it offered the platform for a two-way communication.
In democratic societies around the world, he said, the news media had come to serve as watchdogs on the activities of the political and judicial branches of the government.
Mr Tetteh said the media had kept democracies viable by giving voice to the voiceless, ensuring that a ruling majority could not trample on the rights of a minority, saying that "promoting freedom of the press is really about promoting human freedom".
A senior lecturer at the School of Communication Studies of the University of Ghana, Dr Anthony Bonnah Koomson, who presented a paper on "Relevant Laws, Rules and Guidelines for Media Coverage", said in the context of election coverage; it might not be enough for a journalist to simply insist that one practiced ethical journalism.
He said: ''To be perceived as practising ethical journalism by the public is all that matters most".
"The media exist to serve the public. Our claim to being impartial stands in great danger of being undermined foremost by uncritical media performance during elections," he emphasised.
On conflict of interest, he said, an issue, whether apparent or real, posed an ethical dilemma during elections.
According to him, an election period was the time the media and their practitioners were needed to facilitate a process of direct and indirect voter participation in the ultimate arena of public policy.
"Journalists in an election serve as representatives of the public. If there is ever a time when they must perform their foremost task as guardians of public interest, it is the period of elections," he said.
Dr. Koomson said nothing could be more fulfilling than when the media were able to offer a level-playing field in public discourse, and thereby enable voters to influence public affairs for once, or even take control with respect to the policy choices to be made in an election.
One suggested remedy to deal with conflict of interest, he said, was "to candidly disclose interests".
A former Supreme Court Judge, Justice VC.R.A.c. Crabbe, underscored the need for the country to uphold its values, saying that it would not be able to develop without such values.