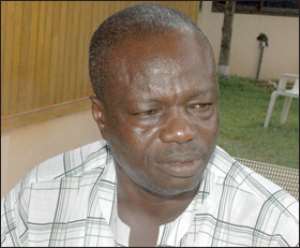 Mr Kwesi Biney HERE SHALT thou sit incarnate, here shalt reign, Both God and Man, Son both of God and Man, Anointed universal King. All power I give thee; reign forever, and assume
Thy merits; under thee, as Head Supreme
Thrones, Princedoms, Powers, Dominions, I reduce:
All knees to thee, shall bow of them that bide
In Heaven, or Earth, or, under Earth, in Hell.
(John Milton's PARADISE LOST).
Over the past few days, the issue of His Excellency, President J.E.A. Mills' assertion that there is only one President in the country, and that President is his humble self, has generated a lot of heat and discussions in the media from all angles.
Indeed, attempts have been made to assign reasons to the President's anger and the subsequent outburst by various commentators and modern day social and political analysts.
Why will His Excellency not be angry with those who are challenging his position? The number of Presidents in this country are too many, infact, they outstrip the number of public holidays in Ghana.
In one of the instances when the President was expressing his anger on the 'duplication of his title' all over the place, Mr. Ransford Tetteh had been introduced to His Excellency, The President, as the President of the Ghana Journalist Association.
Who born you by mistake, Rans T? You stand before Egya Atta and call yourself PRESIDENT? Why will the man not be angry?
There are too many Presidents in this country to the discomfiture of Egya Atta, His Excellency.  President of the Ghana Bar Association, President of Butchers Association, President of AGI,
President of Cartel of Coke Importers and Exporters, President of Chop Bar Cleaners, President of illegal Banker to Banker Operators, President of Association of Professional Propagandists, President of Tribalism Peddlers and so on and so on.
By my own edict, all so-called Presidents of whatever clubs or associations should from 'today to go', call themselves CHAIRMEN instead of President, so they do not challenge the Presidency of Egya Atta.
Having protected the Presidency of His Excellency the President, it is important also for him to learn from President Obama of the U.S.A (Why not, after all did the NDC not describe Egya Atta as Obama?) who recently said "I cannot govern out of anger just because of public outrage over bonuses paid at financial institutions kept afloat by taxpayers dollars". Did our President fume over public outrage or his own disgust about something? We thought he is ASOMDWOEHENE, and he cannot take simple issues coolly?
Prof. Atta-Mills is the President of this country, at least for the next four years, but he does not have to tell anybody. Egya Atta, please use your Presidential powers to halt the running inflation and the uncontrollable price hikes we are experiencing in the country.
Please use your Presidency to end the free fall of our currency and don't send us back to the days when you were the vice President of this country.
Oh! the carnage on our roads in less than three months of your reign, which surpasses any such carnage and loss of lives that the country has ever recorded in its history within a spate of three months.
Use your Presidential powers to stop what seems to me, officially sanctioned highway robbers going round confiscating peoples vehicles. Mr. President, this country is being torn apart on ethnic lines under your Presidency, please deal with that, and that is what Ghanaians expect from you. You do not need to tell us you are the President, we know that.
What we do not know is whether you are committed to offering pragmatic solutions to the problems that confront us and on which you campaigned to become the President of this country.
Interest rates have gone up, workers can no longer have access to loans as it used to be under the immediate past regime, business people are labouring under high cost of loans.
How do you grow the economy in this manner?
Remember, you have just four years to fulfill your promise, to prove to Ghanaians that your administration is better than that of the former, that you are better unifier than the previous President.
Stop telling us you are the PRESIDENT, we know that. Mr. President, what sayest thou on the issue of the ex-President's office and the ethnic dimension. Show that you are the PRESIDENT
 
By Kwesi Biney