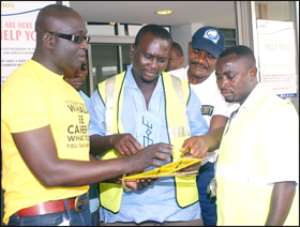 KKD (L) campaigning to educate and inform travellers An outreach activity began in Accra this week, as part of an ongoing campaign to educate and inform travellers about the implications of taking illegal food products to the UK.
It was commissioned by Her Majesty's Revenue and Customs (HMRC) in partnership with the UK Border Agency and the Department for Environment, Food & Rural Affairs.
Her Majesty's Revenue & Customs (HMRC) is the UK authority with overall responsibility for customs controls on imports into the UK while the Department for Environment, Food and Rural Affairs was created in June 2001 to drive forward the UK Government's programmes on the environment, food and rural affairs.  
During the month of February, outreach teams visited the Kotoka International Airport as well as travel agencies and non-governmental organizations (NGOs) to inform Ghanaian citizens travelling to the UK that it is illegal to bring any meat and milk products into the UK and other European Union (EU) countries.
This includes items such as bush meat, snails in their shells, stock cubes containing meat and hot beverages containing milk. There are also restrictions on the amount of some other foods which travellers from Ghana can take into the UK in personal baggage.
Ghanaian citizens travelling to the UK will be advised to check the rules before they travel, as failure to comply could result in prosecution leading to a fine, or even a prison sentence.
Kwasi Kyei Darkwah (KKD), Campaign Ambassador, commented: 
"The outreach activity is a key part of the campaign which will assist us to inform the Ghanaian community at the grassroots level. This will also provide an insight for Ghanaians, and people travelling from Ghana, to gain clear understanding of the law and its implications so they can avoid delays at the airport, heavy fines or even a prison sentence."
The outreach activity forms part of the UK's personal food imports campaign launched earlier this year, which includes the strap-line – 'If you don't want wahala, be careful what food you take abroad!'
From Business Desk