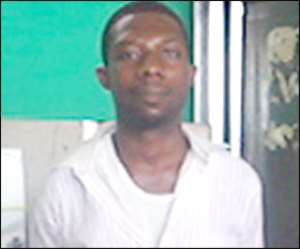 Mighty Bigson A 21-YEAR-OLD polytechnic student who tried to withdraw money from the account of a female student (name withheld) has found himself in the grips of the law.
The culprit, Mighty Bigson, an engineering student at the Takoradi Polytechnic, was apprehended by staff of the Adum branch of the Ghana Commercial Bank when he failed to answer essential questions posed to him when he decided to withdraw money from the victim's account.
Briefing the press, the Public Relations Officer of the Ashanti Regional Police Command, Inspector Mohammed Yussif Tanko said the accused on February 29, 2009 paid a visit to his girlfriend at the Kwame Nkrumah University of Science and Technology (KNUST).  
He said the girlfriend who is a second-year student of the institution shares a room with the victim at the Queens' Hall.
According to him, the accused managed to lay hands on the account number and full name of the victim and proceeded to the bank with the intention to withdraw GH¢300, being the balance in the victim's account.
Inspector Tanko said the accused demanded a new withdrawal form from personnel of the bank with the explanation that he had misplaced his.
The PRO said after filling the form and forging the signature of the victim, he (culprit) presented it to a teller who became suspicious immediately a lady's picture appeared on the screen of her PC.
"The cashier asked the culprit where he opened his account and he (culprit) answered that he opened it at the Adum branch," he told the press.
According to Inspector Tanko, it then became clear to the cashier that the guy was a criminal as the number he wrote depicted that the victim opened her account at KNUST and not Adum.
The cashier then asked the culprit to go and see the Managing Director of the bank where he was arrested.
The culprit, he said, was sent to a Kumasi Circuit Court where he was charged with two counts of attempted stealing and forgery.
He pleaded guilty to all the charges and was sentenced to three years' imprisonment to serve as a deterrent to others.
From Stella Danso, Kumasi