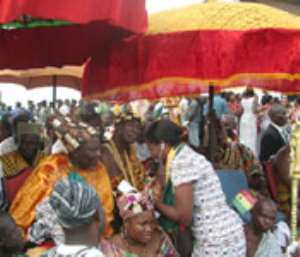 Peace campaigners have decried the increasing demands on the state by ethnic groups.
They say the phenomenon is not healthy for national development but has the potential of throwing the country into a state of anarchy.
The Ga-Adangme youth and the Osu Traditional council have concurrently threatened to evict ex-president Kufuor from his newly office located at Ridge.
They say the president was not only contemptuous, but failed to address the legitimate concerns of the Ga people when he was president.
They have vowed to make life uncomfortable for the ex-president if he persisted on using the ridge office.
In the mist of this agitation, another group, the Patriots for the Protection of Western Region Heritage has issued counter threats that the region will not allow its natural resources to be used for the development of the entire country, if the Ga-Dangme group is bent on carrying out its threat.
In an interview with Joy News the Executive Council of the National Peace Council, PK Opoku Mensah, called on the various Traditional Councils to call their members to order.
He said the various groups must properly channel their grievances to avert ethnic strife.
Even though the groups have the right to express their divergent views in pursuit of their interest, Mr. Edward Amuzu head of the Legal Resource Centre said those interest must be legitimate.
In a separate interview with Joy News, Mr. Amuzu described the concerns of both the Ga Dangme Youth and the patriots from Western Region as worrying.
Asked if they were using legitimate means to put forward their grievances, Mr. Amuzu said "they cannot use legitimate means to address illegitimate concerns."
Story by Nathan Gadugah