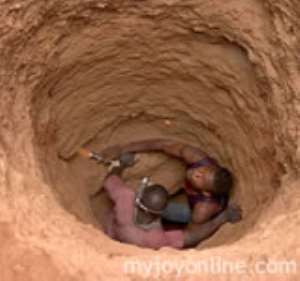 About six 'galamsey' miners are reported trapped in a mining pit in Tarkwa in the Western Region.
Eye witnesses claim officials of Anglogold Ashanti, on whose concession the 'galamsey' operation was going on, deliberately sealed off the pit ignoring warnings there were people there.
Residents of the area and other 'galamsey' miners are making frantic efforts to rescue the trapped miners.
An eyewitness, Kwame Eshun who claimed his brother was among the trapped miners told Joy News the matter had been reported to the Bureau of National Investigations.
He said there was, however, no action as yet from the security agencies.
According to him, efforts were being made to access an alternative route to try and rescue those trapped.
He denied their operational area forms part of Anglogold's concession.
"It is our land," he declared.
The Public Affairs Director of Anglogold in Tarkwa, Kwamena Sakyi Yorke denied any miners were trapped, arguing the company's chief security had indicated nobody was trapped contrary to the reports.
He also disagreed with Eshun's assertion that the area does not belong to Anglogold.
He said the people were operating from the main access road to the company's mining equipment.
"They are trespassing and causing havoc in our concession," he stated.
According to him, a similar issue cropped up last year and the 'galamsey' miners were warned against mining in the area but they remained adamant.