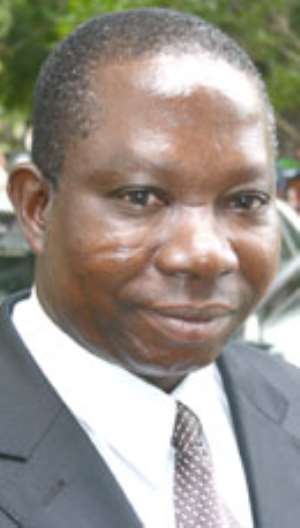 The Majority group in Parliament has accused their Minority counterparts of delaying the sitting of the House. "I am raising the issue of the New Patriotic Party (NPP) holding Press conferences at the time when Parliament should be in session", Hon Alfred Agbesi, MP for Ashaiman said on the floor of the house yesterday. He said press conferences and meetings being held by the Minority Members of the House always delay business.
Hon. Agbesi was surprised that the MP for Sekondi, Hon. Paapa Owusu-Ankomah was mute over the issue, since he made a lot of noise when his party was in the Majority. Hon. Agbesi's comments did not go down well with Hon. Paapa Owusu-Ankomah who described the Ashiaman MP's statement as most irresponsible since his submission at that time was not that of the Majority stand.
"Indeed, I respect my friend very much, he is my mate but I'm sorry to say that the statement that he has made is most irresponsible", he noted.
Hon. Agbesi did not take kindly to the comments from his colleague MP and requested him to reframe the statement. "To say that my statement is irresponsible, Madam Speaker, I want to say that I take serious offense to that statement and it must be withdrawn with a big apology to me", he said.
At this point, the Speaker of Parliament, Rt. Hon. Justice Joyce Adeline Bamford-Addo intervened and condemned the word "irresponsible" used by Hon. Paapa Owusu-Ankomah, since it was an unparliamentary word. She therefore asked Hon. Owusu-Ankomah to use another word.
Hon. Owusu-Ankomah therefore substituted his word "irresponsible" with "uncharitable". After listening to both comments from Hon. Owusu-Ankomah and Alfred Agbesi, and considering the argument raised by the Minority Leader, Hon. Osei-Kyei Mensah-Bonsu, who called on Hon. Agbesi to kindly use the right words when on the floor of the House, the Majority Leader, Hon. Alban S.K. Bagbin demanded that both Members use the right words, which they obliged.
"Madam Speaker, I respect my honourable colleague opposite, the honourable Member for Ashaiman. I know he is a very responsible father, a very responsible husband, a very responsible lawyer and a very responsible Member of Parliament. If the statement was taken as a personal allusion to his behaviour, I'm sorry, I did not intend to mean that he is irresponsible, therefore, I withdraw my statement", noted Hon. Owusu-Ankomah.
On the side of Hon. Agbesi, he said "Madam Speaker, I know the NPP has no intention of stalling the work of this House, I therefore humbly withdraw whatever I've said against them".