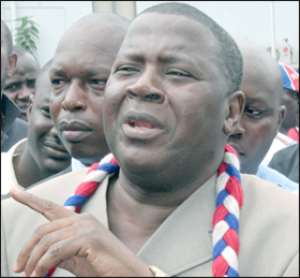 Alhaji Aliu Mahama
A spokesperson for former Vice President Aliu Mahama has condemned the erroneous impression that he has not returned some state cars which were being hunted for by national security.
His reaction follows a publication in last Tuesday's edition of DAILY GUIDE that a team of National Security operatives descended on the house of a certain businessman, Mr. Aminu Amadu to "retrieve cars hidden there by the former Vice President."
According to the spokesman, "there is no problem between us and the National Security apparatus. The process of handing over state assets in the former Vice President's custody was done smoothly."
Explaining, he said that the former Vice President returned all vehicles in his custody. "We have returned all such vehicles to the Castle authorities. We have not been told about unreturned vehicles in our custody," he said.
The former Vice President, he noted, was therefore surprised that his name was being used in a supposed hunt for state cars. "We condemn any persons or group attempting to drag the former Vice President into this issue at this time. After all, we have exhausted all the requirements as demanded by the transition arrangements," he said.
A DAILY GUIDE report on Tuesday stated that a team of national security operatives allegedly went to the residence of a businessman, Mr. Aminu Amadu, in search of cars the former vice president had allegedly hidden at the place.
No such cars were however found by the operatives after an intensive search of the premises, including the garage.