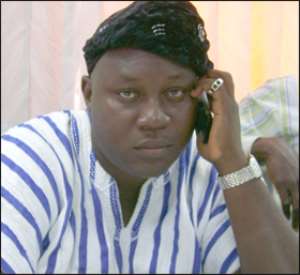 Hafiz Abdullah Choggu-CEO of HAFRED THE MINISTRY of Communications, the National Communications Authority and other stakeholders in the telecommunications business have been called upon to wake up from their slumber and ensure that service providers in the country give consumers value for their money.
The authorities' inability to put pressure on service providers in the mobile telephony industry to give quality services to loyal customers is seen as a mark of irresponsibility on their part.
Operations of these mobile telecommunications networks especially MTN have in recent times been widely condemned due to their abysmal performance.
It is upon this annoying condition that a group calling itself "The Right of the People of the North" held a press conference over the weekend to express its dissatisfaction over the way and manner mobile telecommunications operators in the country go unpunished for rendering poor services to their customers.
MTN has come under severe attacks for non-performance in the three northern regions, namely Upper East, Upper West and Northern.
According to the spokesperson of the group, Muhammed Yakubu, a survey conducted indicated that "MTN is the worst culprit when it comes to dissatisfying customers".
Apart from executing its corporate social responsibility to the fullest, Yakubu stated that "they have failed woefully in meeting the needs of their numerous customers.   
"As at today, businesses in the three northern regions have come to a standstill as a result of the gross inefficiency of the service provided by MTN, which is mostly patronized by mobile phone users in the area", he added.
In a letter signed by Mawuena Dumor, Corporate Services Executive of MTN to meet with Mohammed Hafiz Abdullah Choggu, CEO of HAFRED Ghana Ltd, the telecommunication giant indicated that it expected that within a week, 50 percent of the problems would be addressed while outstanding issues are fully resolved in another two to three weeks with support from the regulatory and permitting agencies.
But the group pointed out that though it was good to restore 50 percent of services, "we do not accept that". This, the group noted, was a blatant display of lack of regard for the rights of consumers and a breach of contract.
The group has since given MTN an ultimatum to restore full service without hitches by March 31, 2009, tasking it with immediate effect to also stop all sales of starter packs and chips.
"We further demand that in these times of bad service, MTN should take steps to reduce tariffs since their charges are too high.
The pretence to grant discounts of up to a 100 percent to consumers is highly deceptive and uncalled for because they hide behind this to arbitrarily charge MTN subscribers", the group observed, adding that service providers, particularly MTN, ought to concentrate and focus on their core business of rendering quality services to consumers in the country.
Meanwhile, Choggu has stressed that the youth of the three Northern regions are very aggressive and would do all in their power to ensure that the right things are done.
By Nathaniel Y. Yankson