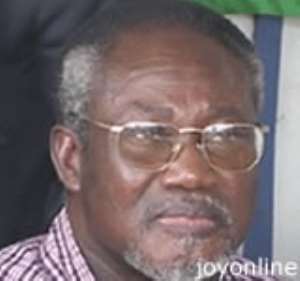 The Founder of the Democratic Freedom Party (DFP), Dr. Obed Yao Asamoah has said that he harbours no regrets for deserting the ruling National Democratic Congress (NDC), a party he once served as its Chairman.
He also said he had no regrets for not supporting the party's Presidential Candidate, then Candidate John Evans Atta Mills, in the second round of the 2008 general elections.
"Considering what happened to me in the party, I obviously don't share the same values with some members of the party, so I have no regrets for not being there in their time of glory now", he emphasized.
He noted that he could not have taken a better decision than throw his weight behind the New Patriotic Party (NPP) and its Presidential Candidate, Nana Addo Dankwa Akufo-Addo.
Dr. Asamoah, the longest serving Foreign Minister and Attorney General under former President Jerry Rawlings' regime from 1981 to 1997, insisted that he did not make a mistake in backing Nana Addo at the run off.
Asked whether he has any intentions to rejoin NDC, he retorted that "Not at all, even before the second round, they made approaches for me to support them, but I refused to support them, I had an honest opinion that Akufo-Addo was a better Candidate to support", he emphasized.
As far as he was concerned, it was just a choice between personalities and not the case of supporting a particular party, stressing "In supporting Nana Akufo-Addo, it was based on my assessment of his individual capability, but not the NPP as a party."
He said, knowing at close hand the candidates involved in the run-off, and the forces that drive or influence them, he felt that Nana Akuffo-Addo could better withstand the strains of office to provide better quality service for the nation, in terms of better development agenda, promotion of human rights and freedoms, rule of law, greater tolerance, gratitude and capacity to stand for what he believes in.
He however, refused to make any comments on unfolding events in the country for the time being, to take some rest from the political, landscape and bounce back in the not too distant future.
In the run-up to the Presidential run-off in 2008, specifically on Monday, December 16, 2008, Dr. Obed Asamoah announced that his party had declared its support for the NPP Presidential Candidate Nana Addo Dankwa Akufo-Addo.
The DFP maintained that it was neither in an in alliance nor merger with the NPP, noting that "We still remain an independent political party, and will continue to remain as such."
At a press conference in Accra , the party's General Secretary and Accra-based legal practitioner, Mr. Bede Ziedeng said the party's decision to support the NPP was to enable Nana Akufo-Addo win the presidency to ensure the continuity of the tranquil political environment that the country was enjoying.
Credit: The Chronicle