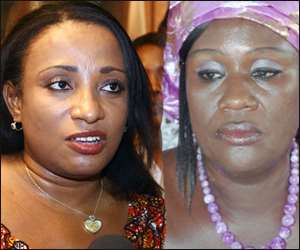 Mrs. Zita Sabaah Okaikoi and Ms. Frances Asiam The Minister of Information, Mrs. Zita Sabaah Okaikoi had her baptism of fire on Tuesday since assuming duty as minister, when firebrand Ms. Frances Asiam engaged her in a fierce and abrasive exchange of words on the airwaves.
The clash took place on an Oman FM Boiling Point programme on Tuesday evening.
The Minister appeared to have stirred the hornet's nest by stating in an earlier programme that Frances, an activist of the New Patriotic Party (NPP), had been asked to beat her up.
The NPP, Mrs Okaikoi said, was manipulating GBC during its tenure, adding that if certain things continued at the station, "we would investigate".
The controversy was triggered by an allegation made by the Minister that Frances was instigated to beat her up at GBC when she appeared to participate in a programme when the NPP was in power.
Not taking the allegation against her lightly, Ms. Frances called the Minister a liar and threatened to go to court over the matter because according to her, beating someone is a criminal offence.
Frances, a former Women's Organiser of the NDC, was at the throat of the Minister as she threw punches at her in retaliation.
So fierce was the encounter that an infuriated Frances laced the encounter with expressions like "what a word; who is stooping low; didn't you see yourself at the Vetting Committee?"
The Minister kept insisting that she would not stoop to the level of Frances, an expression which appeared to be fueling the fire in the former NDC bigwig.
The fiery aspect of the encounter was preceded by the Minister explaining that the NDC would not want to countenance what happened at GBC when they were in opposition.
She recalled that once upon a time during the NPP era, she was replaced by Frances Asiam in a Breakfast Show programme hosted by GTV.
The Minister stated that the NPP government manipulated the GBC to their favour when they were in power, adding that her boss President John Evans Atta Mills seeks to have a one Ghana, un-polarised, and would not condone such a feature.
According to her, when Hon K.T. Hammond, MP for Adansi Asokwa suggested to her to have the GBC Director General, William Ampem-Darko fired, she explained that such decisions lie only with the National Media Commission.
"We do not control the contents and appointments of the programmes of GBC," she said.
 Continuing, she noted that "when the shoe is on the other foot we complain that it is too tight. The Ministry of Information would maintain a neutral position. We would correct the previous precedence".
When she took her turn to rebuff the Minister's allegations, Frances said what Zita said were all lies.
Frances: "Never, never ever. I was in the public space before her. I did not go to GBC. All the producers are present. I asked that Stephen Amoah be contacted. She (Zita) has met her match.When was my last media encounter with her?
She was fumbling at the Vetting Committee. Let her tell Betty Mould-Iddrisu to prepare as I am going to go to court over her allegation that I have been ordered to beat her up. They are all lies, black and white lies".
Zita: "I don't want to stoop to that level; I won't argue with her. Am I on air?"
Studio: "Yes you are."
Frances: "Hei! Whose level?  Stop opening your mouth bayaa. Remember your performance before the Vetting Committee.
"I would go to court for her to tell the court who ordered me to beat her up. Where and who ordered me to do so. It was on Joy FM. She should stop casting aspersions. She is lying assiduously," ended the furious exchange.
By A.R. Gomda