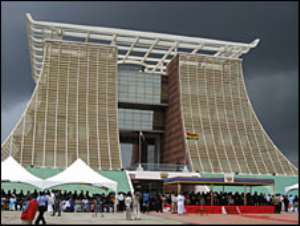 A policy analyst, Mr. Kofi Bentil has called on President JEA Mills to allow the Jubilee House to be used by other state agencies if he chooses not to move in.
The Jubilee House for the last part of the Kufuor administration served as the seat of Government, but President John Evans Atta Mills is yet to move in.
Three months into his administration, the president has operated from the castle fueling speculations the Jubilee House would be left to rot.
The President earlier hinted he will move into the edifice if works were completed, but Joy Correspondent Sammy Darko reports after exclusive tour of the house that the president can move in if he chooses to.
Speaking to Joy News on Wednesday, Mr. Kofi Bentil of Imani Ghana, a policy think tank, lamented the practice by which state assets are allowed to go waste just because the president takes a political decision not to use it.
Making reference to the Gulf Stream Jet bought by the Rawlings led administration but allowed to go waste by the Kufuor led administration, Mr. Bentil said this cannot be allowed to recur.
"Whilst politicians have the right to make decisions, the public has the right to judge the quality of decisions they make," he stressed.
He expressed disgust over the rent charges being imposed on state agencies and commissions occupying private offices, adding they can be made to relocate to the Jubilee House if the president insists on staying in the castle.
Story by Nathan Gadugah