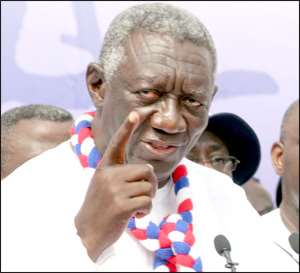 Supporters of the New Patriotic Party (NPP) in the Ashanti Region have called on former President John Agyekum Kufuor to leave behind all the controversy surrounding his use of the state property at Ridge as his personal office and return "home" to the Ashanti Region.
An opinion poll sampled by Citi News Correspondent, Francis Dodovi, in the Ashanti Region revealed that most of the NPP party loyalists in the region are not only upset about the current turn of events but also are disappointed as well.
Sharing their views on the recent tussle surrounding the use of the property, some NPP loyalists in the region said they were saddened by comments of the Ga-Dangme Youth and The Ga Traditional Council calling for the ex-President to vacate the residence.
Some proposed to rent an apartment for the use of the ex-President as his personal office in the region.
Others also suggested that they would contribute money to hire an office space for the ex-President if he decided to 'come back home' with some adding that the ex-President could even ask someone to find an office space in Accra whose bill they would gladly foot.
Concerns have also been raised by these residents as to why the Jubilee House is not being occupied by President Mills.
They wondered why the Seat of Government was still the Osu Castle and not the Jubilee House.
The controversy surrounding the Ridge building the ex-President, John Kufuor intends using as an office complex has come under serious criticism with the latest being the National Security apparatus claiming ownership of the building.
The 'Ga-Dangme Youth' group threatened to picket the residence if the former President continued in his efforts to use the building as his office.
The Osu Stool also joined the fray on March 24 when in a letter written by the chiefs and people of the Osu Traditional Council (OTC) and addressed to the seat of government, expressed its disapproval for the use of the property by Mr. Kufuor.
According to the letter the people of Osu have vowed to make it uncomfortable for former President Kufuor and his working staff to use the said property as an office accommodation.
By: citifmonline