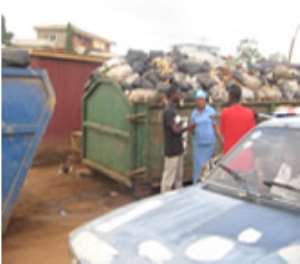 Mr Kofi Opoku-Manu, Ashanti Regional Minister has observed that intense trading activities on the streets and pavements within the Central Business District (CBD) resulting in the generation of large quantities of refuse were among factors militating against efforts of Kumasi Metropolitan Assembly (KMA) to maintain clean environmental sanitation status in the metropolis.
He said other factors included indiscriminate dumping of refuse into drains, open spaces and inadequate funds to sustain regular waste collection and street sweeping services.
Mr Opoku-Manu made the observation when launching an action plan for "Keep the City of Kumasi Clean Campaign" jointly organised by Ashanti Regional Coordinating Council (RCC) and KMA in Kumasi on Wednesday.
It was attended by members of Ashanti Regional Security Council, chiefs, assembly members, market women, traders, heads of departments, health workers, youth groups, members of Freiko and Zoomlion waste management companies.
He said consultations had been held with various stakeholders including the 10 Members of Parliament from the metropolis to develop an action plan to achieve the desired clean city environment for 2009 and beyond.
Mr Opoku-Manu pointed out that maintenance of a clean city was a shared responsibility therefore, KMA should not be left alone and stressed that every citizen and organisation, security agencies and companies had vital role to play to achieve this noble objective.
He said efforts were being made by government to construct satellite markets to relocate traders and hawkers to reduce congestion at the Central Business Centre to ensure free flow of traffic.
Mr Opoku-Manu pointed out that re-settlement of these traders to these markets would not only reduce congestion and waste of resources but also ensure positive decentralised development in the metropolis.
Dr Christiana Amoako-Nuamah, former Minister of Environment, Science and Technology, said there was the need for all stakeholders to participate actively in the sustenance of educational programmes to keep the city clean.
Nana Asampong Boakye, Asamponhene of Kumasi commended management of Zoomlion company for controlling filth in the society and called on other organisations to cooperate to manage waste in the city.
GNA