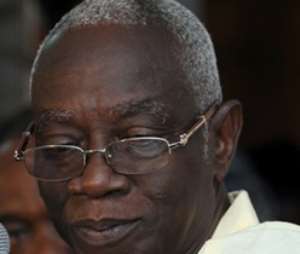 The Electoral Commission (EC) intends to carry
out some electoral reforms as part of measures to enhance the transparency
and credibility of the electoral process.
Mr Alban Bagbin, Chairman of the Special Budget Committee of Parliament,
in a report read on the floor of the House, said these reforms were expected
to begin this year and it was to be financed from the service expenditure of
the EC's budget.
"It was however, observed that the Commission's service budget has been significantly reduced. The 2009 approved figure is 294,763 Ghana cedis whereas the 2008 figure was 418,104, Ghana cedis, a difference of 123,341 cedis or 30 percent," Mr Bagbin, who is also the Majority Leader said.
He was seconding a motion for the approval 7,091,990 Ghana cedis for the services of the EC for the 2009 fiscal year.
He said there was allocation for the conduct of only one bye-election in the EC's budget for the year.
"It is the view of the Committee and the EC that past experiences make it imperative that there should be provision for more than one bye-election considering the fact that we already have one bye-election even though the year is only three months old, and therefore urges the Ministry of Finance to make contingency arrangements to provide the EC with funds for bye-elections whenever the need arises," Mr Bagbin added.
The Majority Leader also seconded a motion for a sum of 5,044,605 Ghana cedis for the services of the National Commission of Civic Education for this year and said the Commission would this year, deepen the social audit programme of the Commission to educate the public on its rights and powers to hold both elected and non elected public office holders accountable, particularly at the district level.
Earlier, Finance Minister, Dr Kwabena Duffuor, moved a motion for the approval of a sum of 146, 681,167 Ghana cedis for the services of the Finance Ministry.
He said the ministry would, for this year, improve upon revenue collection and tax administration to support the economy.
The House also approved an estimate of 4,206,832 Ghana cedis for the Commission on Human Rights and Administrative Justice for the year.
GNA