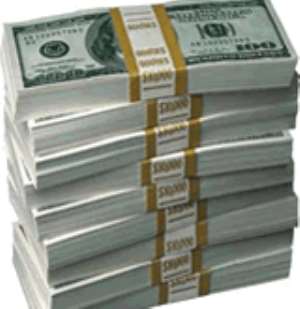 Officials of Amalgamated Bank on Wednesday stated emphatically that they have taken steps to comply with recommendations by the Bank of Ghana following what the regulator found to be aberrations of the banking regulations.
But the officials were unhappy that media handling of the Bank of Ghana's 'reprimands' appear to portray Amal Bank as the odd one out of the many banks operating in the country that has a case to answer for lodging fake currency notes with the central bank.
The officials, Messrs Rodney Oppong Nyantekyi, Head of Risk Management; Charles Ampofo, Head of Corporate Affairs and Godwyll Ansah, Company Secretary and Lawyer, were guests on Joy FM's Super Morning Show Wednesday.
"…We are not necessarily the highest depositor of fake foreign currencies in the vault, ok, and on that grounds we say that it is not an extraordinary occurrence. What did happen in 2007 was responded to and I believe that what happened this time around had cause for them to worry because a similar thing, exactly the same thing had happened before. And I need to say though that for the ordinary person listening who may not understand the workings of the banking system, it is people who do count the monies, ok, so if for example a customer came into the bank and walked in with about 200,000 dollars in cash, ok, somebody counting the money could slip some through, it does not make it acceptable, but it is a human error…" said Mr. Godwyll Ansah, Company Secretary and Lawyer.
The Bank of Ghana had asked the bank to replace its Managing Director, Mr. Oluwale Ajumale for serious infractions of the banking regulations, and also sanctioned him and the bank as an entity for the offences.
The three officials said they were sure steps taken so far, including the replacement of Oluwale Ajumale by Mr. Menson Torkornu, deputy MD who is now acting MD, are in fulfillment of the central bank's directives.
They also assured that elaborate steps have been taken to ensure that the bank's tellers are equipped to detect fake notes, and the measures include the training of staff and replacement of all the bank's money counting machines.
"…I think that the fake foreign currency is topical on people's minds, it's an issue that bothers a lot of people. Even before this issue came up, we have an ongoing training programme for our tellers, ...because you can never tell who comes in with a fake currency as well, so the training programme is ongoing and the tellers are being trained in how to detect fake currencies. Now you would also agree with me that these fraudsters who do the fake currencies are also upgrading in terms of their technology and techniques, so as and when we catch up, they are also coming up so it is our responsibility to stay ahead of them, as we speak we have changed all our counting machines in all our branches and that can be verified," Godwyll Ansah explained.
Story by Isaac Yeboah