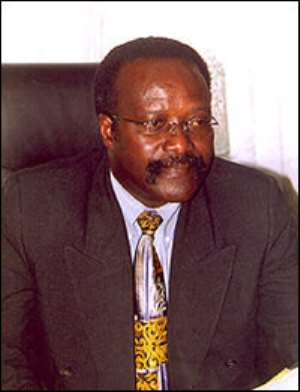 The Ministry of Food and Agriculture (MoFA) is to develop a three-year strategic plan to improve on the efficiency of staff of the ministry, the Minister of Food and Agriculture, Mr Kwesi Ahwoi, has stated.
He said the strategic plan, which aimed at developing the human resource base of the ministry, would afford staff the opportunity to develop themselves professionally and academically.
Addressing the Upper East Regional staff of MoFA, he said the plan was not only to develop them to manage their schedules effectively and efficiently but also equip them to contribute meaningfully to the private sector on retirement.
The minister was on a two-day familiarisation visit to the Upper East Region and was accompanied by the Chief Director of MoFA, Dr Gyiele Nurah; the Director, Finance and Administration, Mr Baah Adade, and the Chief Executive Officer of the Ghana Irrigation Development Authority (GIDA), Mr D. L. Lamptey.
He said the plan would cover the entire staff of the ministry and would not be limited to any sector and urged the staff to take advantage of it to develop themselves.
Mr Ahwoi said one of the challenges facing the ministry was how to improve upon the lives of rural farmers who make significant contributions to the country's food security but are usually not recognised.
"If we do not ensure an improvement in the lives of the rural farmer, then we have failed in our responsibility," he stressed, adding that success in whatever we did should be able to improve on the lives of the rural farmer.
The minister said agriculture held the key to national development, saying that was the reason the government established the Savanna Accelerated Development Authority which would support farmers within the northern sector and some parts of the Brong Ahafo and Volta Regions.
He said the government would also continue subsidising the cost of fertiliser for small-scale farmers and that within the next two weeks the ministry would start printing the subsidy coupons for the farmers.
He gave the assurance that the government was determined to provide tractors on hire purchase basis to farmers but expressed his worry over the rate at which, beneficiary farmers were defaulting in. repaying.
He said if that trend continued, the government could not sustain the programme.
The minister cautioned beneficiaries who had defaulted to either pay or forfeit the tractors and announced that the ministry would soon embark on an operation to recover all outstanding debts.
The Upper East Regional Director of MoFA, Mr Roy Ayariga, said the agricultural potential of the region far outweighed its challenges, adding that when the potential was exploited, it could reduce the poverty rating of the region.
He said the region had the potential to become the bread basket of the country if the Fumbisi valleys alone were put under maximum cultivation.