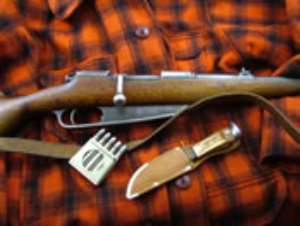 A security analyst, Mr Emmanuel Sowatey, has described the weapons buy-back move by the Northern Regional Security Council (REGSEC) as wrong and out of place.
He said the initiative of the REGSEC, although laudable, should have addressed the causes of the demand-supply chain of the weapons, adding that weapons buy-back scheme had always been part of a major peace process and was never taken in isolation.

Mr Sowatey told the Daily Graphic on Tuesday that without addressing those concerns, the initiative of the REGSEC would only go to increase the stockpile of weapons in the region.
He explained that the REGSEC should have identified and indicated the type of weapons being retrieved because the GH¢300 offer to any resident who will surrender his weapon to the security agencies was ambiguous.
According to him, an AK 47 cost about GH¢1, OOO and no one would return that weapon for GH¢300 while a locally manufactured gun cost almost GH¢lOO.
Mr Sowatey said although those with locally manufactured guns could hand over theirs, they could return to buy two or three more, since the local manufacturing industry was unregulated.
Moreover, he said, the culture of the people in Tamale should have been taken into consideration before any action was taken.
He explained that in a culture where possession of a gun was a sign of manhood, nothing would motivate any individual to hand over his weapon.
Moreover, he said, the passion which the people had for chieftaincy and other cultural practices would also not encourage them to hand over the weapons.
"They would prefer to fight to protect such high-held passions," he said.
Mr Sowatey said another problem which needed to be addressed to reassure the people was the criminal justice system.
According to him, people resort to acquiring arms to project themselves when they do not trust or have confidence in the justice system.
He said if the police failed to arrest and the prosecutors failed to prosecute while the courts could not be trusted to deliver justice because of perceived corruption, the people would certainly hold on to their guns.
Mr Sowatey stressed the need for those in possession of legally acquired arms to renew their licences annually while members of the public should support the security agencies against gun-running.
The REGSEC on Monday extended the period given to residents of the Tamale metropolis to surrender illegal arms in their possession to the security agencies by one more month.
It also made an offer of GH¢300 incentive to any resident who would surrender his weapon to the security agencies.
As of last Friday when the deadline ended no weapons had been surrendered as had been directed by the Northern Regional Minister.