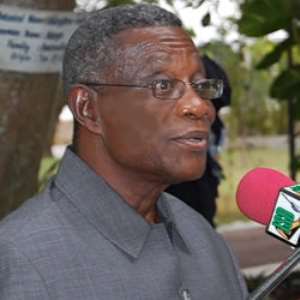 President John Evans Atta Mills yesterday gave the assurance that the government would step up efforts towards the eradication of Buruli ulcer and other debilitating diseases in the country.
He said the affliction of the people by Buruli ulcer and other contagious and communicable diseases had seriously effected productivity in all sectors of the economy and threatened the government's projected targets, especially in the field of agriculture.
President Mills gave the assurance when the Beninois Minister of Health, Professor Issifu Japkara, delivered a special message from President Yahyi Boni of Benin to him at the Castle, Osu,
The contents of the message were not made available to the media but they were believed to centre on the holding of an international conference on Buruli ulcer in Benin next week to which President Mills had been invited.
According to the President, the menace of Buruli ulcer, which incapacitated and immobilised victims, slowed down productivity in endemic areas across the country and invariably affected total national output.
He further explained that agricultural productivity would be in grave danger, with its consequences of rises in the prices of food items and the inflationary rate, if the disease was not contained from spreading to other parts of the country.
He said since the economy of Ghana was still agriculture-driven, the government would not compromise on the health status of the people, especially in the agricultural and manufacturing sectors.
President Mills said the government would come up with concrete measures that would lead to the elimination of Buruli ulcer in the country, despite the budgetary constraints.
"Health is wealth, and for that reason the government will not toy with the health and medical needs of the masses of the people," he said.
The President said he would do his utmost to attend the conference to enable him to learn at firsthand the measures that other countries, especially in the West African sub-region whose people had been afflicted by the disease, had instituted to cure and arrest its spread.
However, he added, if for any circumstance he was unable to attend the meeting, he would send a high-powered ministerial delegation to Benin to take part in the deliberations.
For his part the Beninois Minister of Health Prof lssifu Takpara congratulated President Mills on emerging winner of last year's presidential poll, stressing that his country was looking forward to fruitful co-operation with the Mills administration.