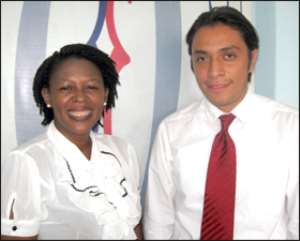 Zayna Brimah and Ivan Parada 3E QUANTUM Associates, an international business management consulting firm with expertise in human resource development and corporate training, is set to launch an ambitious workshop targeted at young graduates from tertiary institutions.
3EQ World of Work Workshop is a program designed to provide young adults with the opportunity to develop particular skills that are considered essential by top companies in the country.
According to Zayna Brimah, Executive Director of 3EQ, such skills empower individuals to effectively perform as team members and deliver results. 3EQ designed the format of this workshop based on the human resource experience of the company over the last 10 years.
The workshop is combined with highly-effective learning tools and 3E Quantum aims to actively work on existing capacity building activities by providing these services.
"This is acknowledged to be the key factor for successively achieving development in the region and maintaining a head position on the continent."
Ivan Sosa Parada, an international Business Development Executive who works with 3EQ, indicated that for Ghana, these kinds of programs are fundamental.
Although being one of Africa's most developed countries, Ghana is strongly in need of a skilled labour force.
A report by the World Bank, the National Council for Tertiary Education and the National Accreditation Board has stressed the need for Ghana to have a well-performing labour 'to meet the demands of global competition'.
The report stresses that there is a big gap between the output of universities and the skills that students should count with at the time of performing. It further notes that the private sector has an important role in the human resource development at the national level.
"By developing training programs like 3EQ W³, 3E Quantum is taking an active role in narrowing the alluded gap."
3E Quantum Associates, in partnership with Visionet Systems, a U.K. based training organisation, has acquired the country's first accreditation to offer one of the world's best recognized project management training dubbed 'PRINCE2' also this year.
By Samuel Boadi