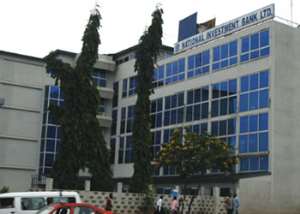 Report has it that the former Managing Director of the Agricultural Development Bank, Dr. Paul Kuranchie has been made the substantive MD of the National Investment bank (NIB).
The move follows the latest scandal involving the then MD, Daniel Gyimah who has a case in court for attempting to cause financial loss of $60 million dollars to the state.
Dr. Kuranchie is said to be in a meeting with the senior staff of the bank to set his plans in place for the bank.
The decision suggests that Mr. Gyimah might have no place at the bank when his court case is concluded.
Mr. Gyimah is on a five hundred thousand dollars bail with four sureties, one to be justified.
He is alleged to have unilaterally entered into an agreement with Eland International Ghana in which he used NIB as a guarantor by issuing 30 promissory notes valued at $60,000,000. The notes were to mature on January 29, 2009.
At that same period, Eland International Ghana contacted IROKO Security Company in London and discounted the $60,000,000 promissory notes to $45,000,000 cash, but after the date, the notes did not mature and there was still no payment to IROKO.
The new NIB boss is expected to be unveiled soon to the entire staff of the bank and eventually to the public.